SOLD Antique 19th century Chinese Qing Dynasty Embroidery Roundel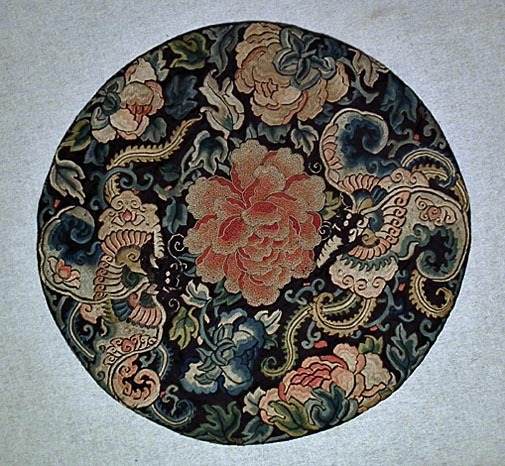 SOLD An extremely fine quality Antique 19th century Chinese Qing Dynasty Embroidery Roundel of dark blue silk, finely embroidered with flowers and large butterflies in satin stitch, with a large peony on the center embroidered in Forbidden Stitch. The back lined in modern navy blue silk fabric.
DIAMETER: Approximately: 31cm (12 1/8 in).
CONDITION: In good condition, showing age and usage.
REFERENCES: Imperial wardrobe by Gary Dickinson, Linda Wrigglesworth.
This Rare Chinese Silk Brocade came from an old Canadian collection of Oriental Art, with other textiles, ceramic, jades and Chinese antiques, which we are in the process of photographing and placing for sale for the first time.
Due to the fact that the market is flooded by reproductions of Chinese antiques, which for inexperienced collectors look the same as the authentic objects, we would like to inform our clients that this is a 100% authentic Chinese 19th century Qing Dynasty antique and not a reproduction, and is accompanied by a Certificate of Authenticity.