SOLD Antique 19th Century British William IV Royal Household Court Sword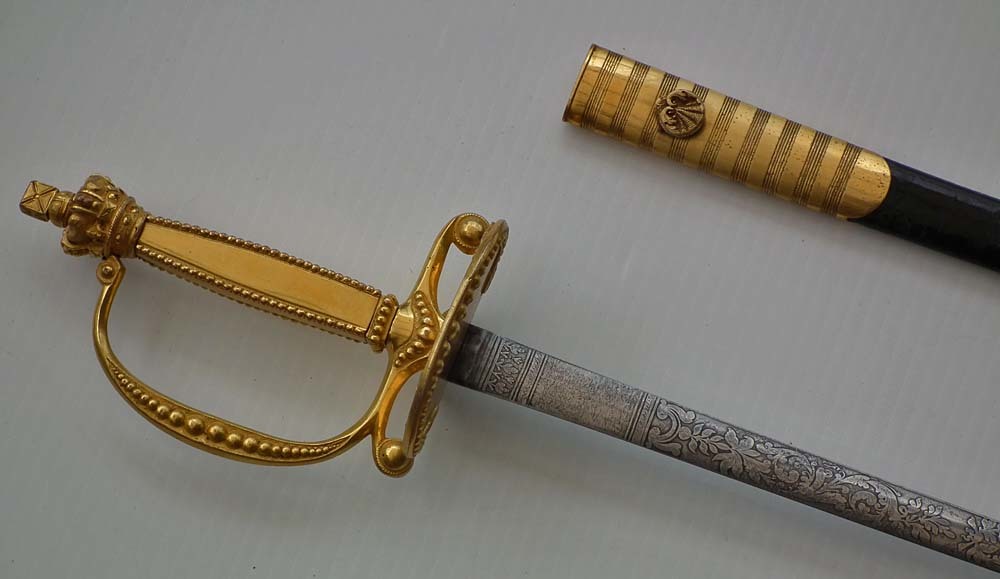 SOLD Antique, 19th Century, British William IV Royal household Court Sword with rare pattern hilt. All brass gold gilt hilt with knuckle bow, down turned quillons, shell guard applied with leaves, solid grip with pommel in the form of the royal crown, all decorated with studded borders, a double edged straight blade finely etched with crowned William IV Royal Cipher and foliage, in its gilt mounted leather scabbard.
Most of the of the British Court swords with all brass gilt hilt has an urn shaped pommel,this example has a pommel in the form of the royal crown. The crown pommel is characteristic for the British Court Swords with grip bound with twisted copper wire. So this must be a rare transitional pattern between typical William IV Royal Court Sword with wire bounded wooden grip and early Victorian Court Sword gilt solid brass hilt with urn form pommel.
William IV was King of the United Kingdom of Great Britain and Ireland and King of Hanover from 26 June, 1830, until his death in 1837.
CONDITION: The sword is in good condition considering its age, hilt retaining virtually all original gold gilding. Leather scabbard broken and reinforced in two spots by leather banding and plastic tape.
MEASUREMENTS: Overall length of the sword sheathed in the scabbard: 95cm (37 3/8 in). Overall length without the scabbard: 90.5 cm (35 5/8 in). Length of the blade: 77 cm (30.32 in).