SOLD Antique 19th century American Naval Gun Powder Horn Sailors Scrimshaw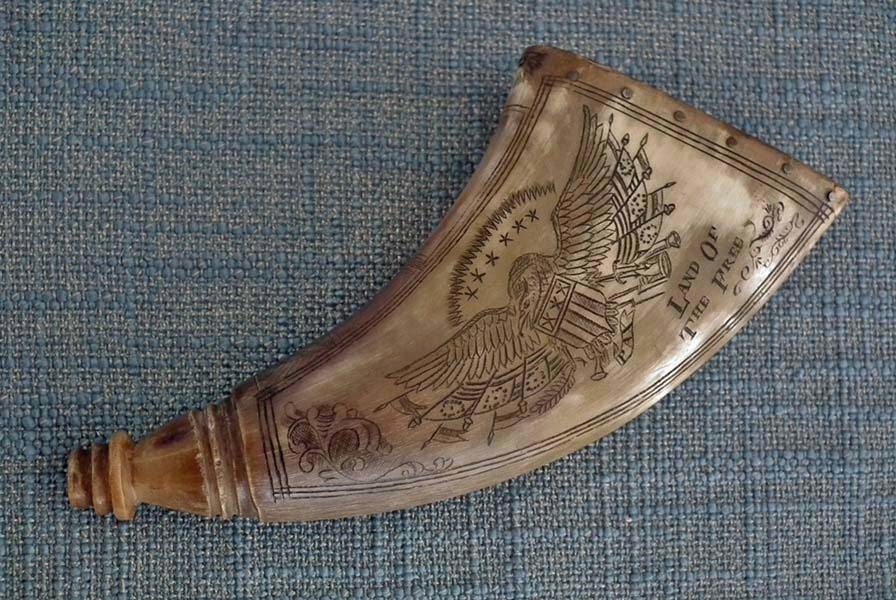 SOLD Rare authentic antique 19th century American Naval Sailors scrimshaw decorated gun powder flask-priming scrimshaw horn.
DETAILS: Curved flattened cow horn body richly adorned with patriotic motives. Obverse finely engraved with a US Bald Eagle with 6 stars over its head and an American shield on the chest with "PAX" below the eagle's large spread wings adorned beneath with panoply including banners, cannons, and trumpets.In the lower right is engraved the motto "LAND OF THE FREE".

Reverse finely engraved with a round medallion with a sailing vessel with the American banner within engraved on the border "IN GOD WE TRUST" flanked by a large fish and mermaid holding a banner inscribed "LIBERTY" with an anchor below floating above the sea and an oval American shield on the site engraved with four vertical stripes and star above. The spine engraved "THE HOME OF THE BRAVE".

Francis Scott Key is the author of the famous words "The Land of the Free and the Home of the Brave"; he wrote those words in 1814.

The base fitted with a wood cap secured with small metal pins. Ended with a carved beveled nozzle with rings.

MEASUREMENTS: The overall length is approximately: 13.5 cm (5 5⁄16 inches).

CONDITION: Age and usage is showing; In its original unattached condition with general expected wear, plug is missing.
This small powder horn would have been used with the fine priming powder used in the flintlock ignition system.