SOLD Antique 18th century Polish or Hungarian Hussar Sword Sabre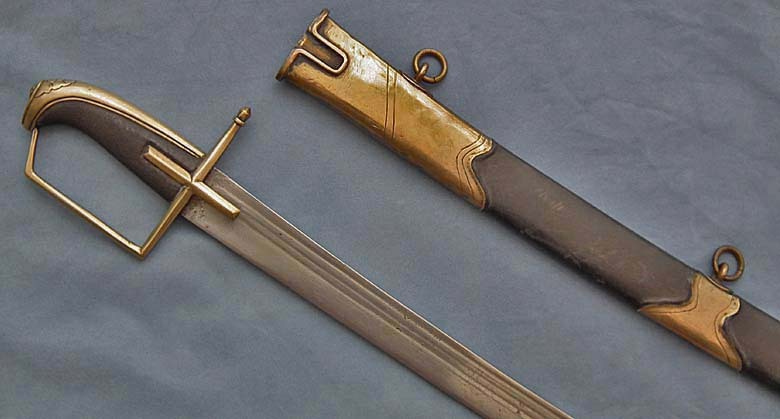 Rare Authentic Antique, first half of the 18th century, Polish or Hungarian Hussar sword. DETAILS: A brass stirrup hilt of typical hussar form with a bevel knuckle bow and a pair of langets forming a cross, long quillon with a bud-shaped terminal, and a back-strap decorated on the top with a rococo ornament; an almond shaped, flat pommel with rosette button, the wooden grip is covered in fine sharkskin binding. A slightly curved single edged blade, cut with three narrow, full-length fullers, and a short fuller on the back-edge, made from hand forged Damascus steel with a strongly visible pattern. The other side of the blade has three rows of markings. In its original, leather-covered, wooden scabbard, mounted with a large shaped brass locket, chape and suspension mount, each shaped and chased.
CONDITION: In good condition considering its age, some soldering bruising and minor dents on the brass fitting of the scabbard, otherwise in good condition.
MEASUREMENTS: Overall length, with the scabbard: 94 cm (37 in), overall length without the scabbard: 90.5 cm (35 5/8 in), length of the blade: 78.5 cm (30 3/4 in).
Due to the fact that the market is flooded by reproductions of Polish swords, which for inexperienced collectors look the same as the authentic objects, we would like to inform our clients that this is a 100% authentic antique sword.