SOLD Antique 18th century Islamic Mughal India Indo Persian Sword Talwar Shamshir With Hindu Script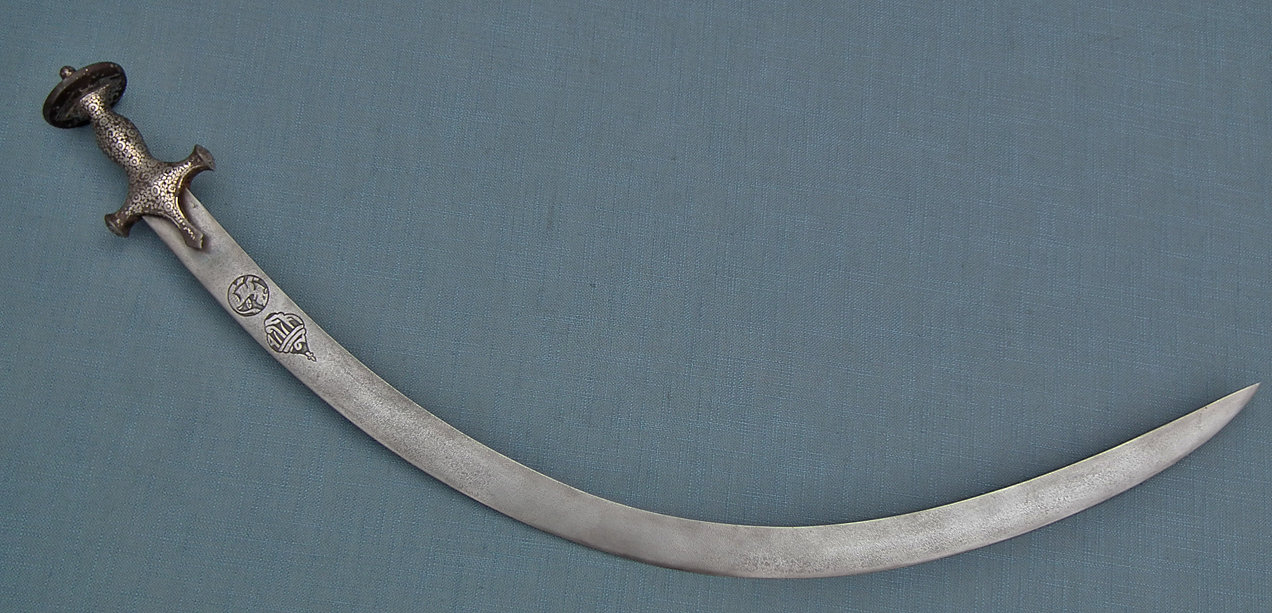 SOLD Authentic antique 18th century Islamic Mughal India Indo Persian Sword, Talwar - Tulwar with Shamshir blade
Massive Tulwar style steel hilt, with a bellied grip that runs down to form short quillons, with a large saucer shaped pommel heavy decorated in silver koftgari in distinguishing Mughal floral pattern, the inner side of the pommel is silver inlaid with script probably in Indian alphabet. A very unusual heavy and sturdy deeply curved single edged shamshir blade possibly made of Damascus steel wootz adorned at the forte with two chiselled cartouches including Arabic calligraphy and the Persian lion.

CONDITION: The sword is in good condition considering its age. The blade is pitted over its surface, but the pitted pattern on the surface of the blade is similar to the fine wootz pattern so it is possible that the blade is made of Damascus steel wootz. Also, when the blade is tapped by finger it makes a nice sound, the edge of the blade has some sharpening, some loss to the silver inlaid. All of this is an aspect from a used antique combat sword that is over 200 years old.

MEASUREMENTS
Overall length in straight line from the point of the blade to the end of the pommel: 86.4 cm (34.02 inches)

Since the market is flooded by reproductions of Islamic and Indo-Persian swords, which for inexperienced collectors look the same as authentic artifacts, we would like to inform our clients that this is a 100% authentic antique sword, and is accompanied by a Certificate of Authenticity.