SOLD Antique 18th century Islamic Indo-Persian Shield Dhal- Separ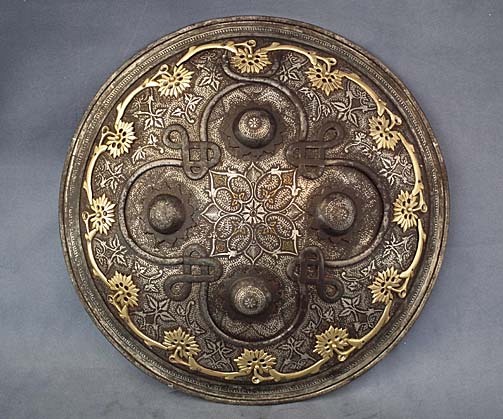 SOLD Antique 18th century Islamic Indo-Persian Mughal steel shield Dhal- Separ of circular convex form, decorated throughout in silver and gold koftgari, with a symmetrical arrangement of scrolling leafy tendrils, enclosing further scrollwork and flowers, and applied with a steel serpentine ribbon, surrounded by a brass band of creeper riveted to the shield. The center is set with four domed bosses, affixed by four ring-bolts on the reverse for a rope (to hold the shield).
REFERENCES: Similar shields are in the collection of the National Museum of New Delhi, published in the "Indian Armours in the National Museum Collection Catalogue" by G.N.Pant and K.K.Sharma, Page 101 Figure 96, Page 102 Figure 97.
MEASUREMENTS: Diameter: 35.5 cm (14 in).
CONDITION: The shield is in good condition considering its age of over 200 years.