SOLD Antique 18th-19th Century Russian Caucasus Caucasian Shamshir Shashka Sword Blade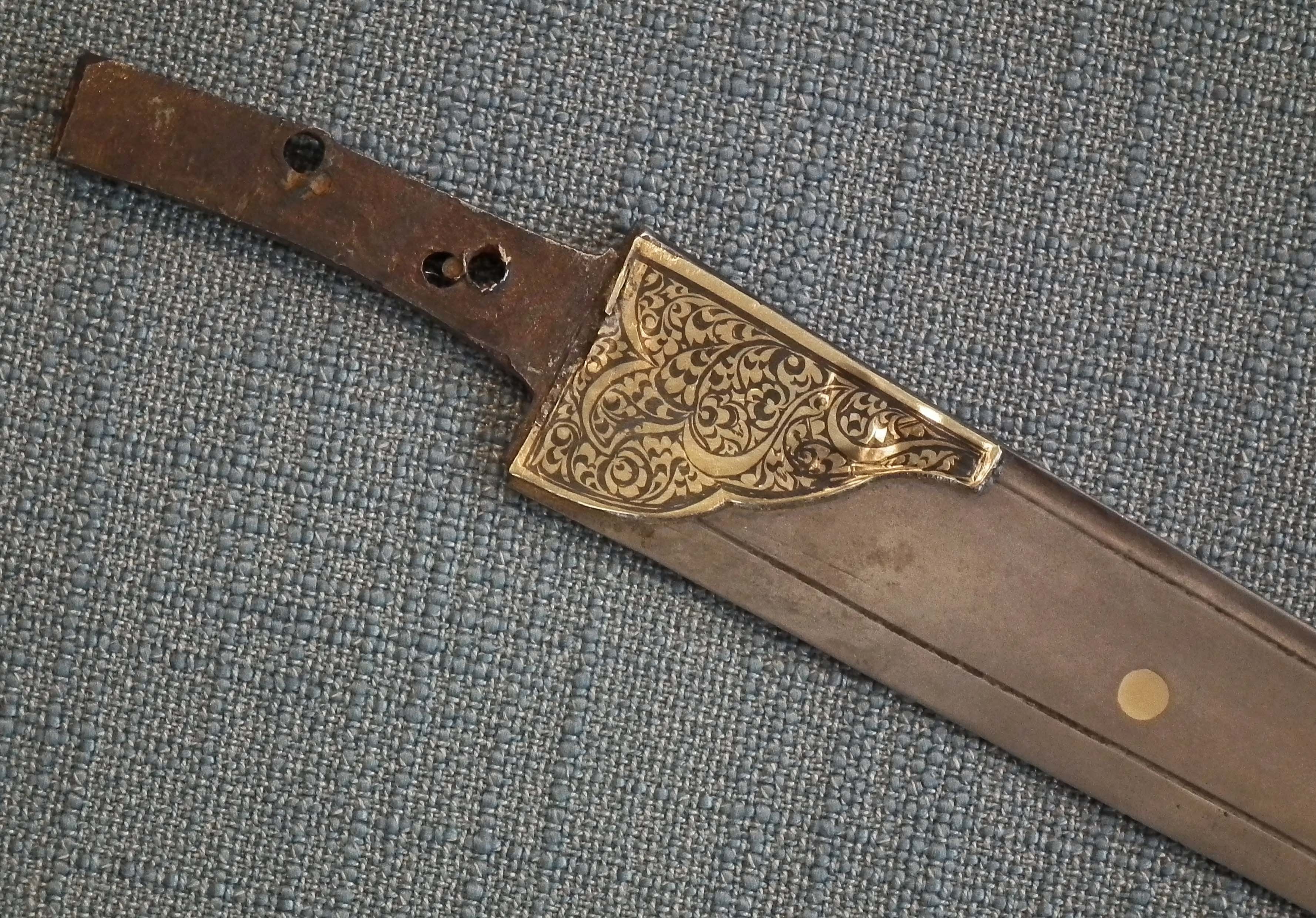 SOLD Rare, antique 18th- early 19th century Caucasus excellent quality Caucasian sword blade.
DETAILS:
A beautiful, superb quality slightly curved sturdy hand forged single edged Damascus steel very sharp blade with slightly visible wootz (Bulat) pattern with fine grains, cut on each face with two thin grooves joining together at the point of the blade, and full-length, slender fuller along the back-edge.
A forte encased on each side with shaped solid gold panels, adorned with niello scrolling foliage.
The tang of the blade pierced with three unregular holes which indicated that the blade over the time was mounted with a different hilts.

REFERENCES:

1. An 18th century Georgian sword blade made in Tiflis dated 1708 -1709 decorated on the forte with similar in shape panels inlaid in gold koftgari from the former Russian Imperial collection Tsarskoje Selo now in the Hermitage Museum in St Petersburg, Russia is published in the book "Caucasian Arms from the State Hermitage Museum, St. Petersburg" by Yurij A. Miller, page 47, illustration 5.
2.18th-century Caucasian sword blades with similar in style fullers are published in the book "Weapons of the Caucasian nations" by E. Astvacaturyan.

We will also provide the buyer with photocopies of the pages from the mentioned references together with a certificate of authenticity.

This type rare sword blades cut on each face with two thin grooves joining together at the point of the blade are distinctive for 18th - 19th-century Caucasian sword blades made by Georgian, Armenian and Dagestan masters and they are very rare and seldom seen for sale.

MEASUREMENTS: Overall length: 84.3 cm (33 3⁄16 inches).

CONDITION: This sword is in good condition considering its age, showing its age and usage,gold panels slightly damaged.
Please see the photos as they are a part of the description.