SOLD Antique 17th century European Iron Mortar Cannon Gun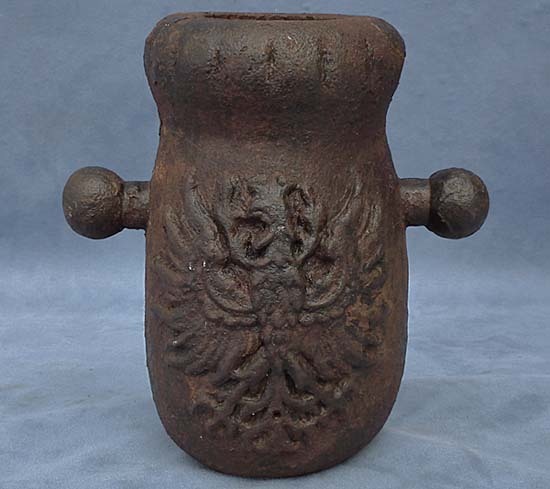 SOLD A rare Antique 17th century European iron mortar with bulbous body, ribbed muzzle and two knobbed trunnions, reinforced cast in low relief of a heraldic crowned eagle with the touch hole in the tail.
CONDITION: In good condition with some rust and remains of a later black painted finish.
The touch hole is clean and not clogged.
MEASUREMENTS (approximately):
Overall length: 24cm (91/2 in).
Width in the widest spot: 16 cm (6 1/4 in).
Diameter of the bore: 7.5 cm (3 in).
Depth of the bore: 22 cm (8 5/8 in).
Overall length of the trunnions: 23 cm (9 in).
WEIGHT: 17 Kg (38 Pounds).