SOLD Antique 17th-18th Century Spanish Colonial Large Wood Saddle Stirrups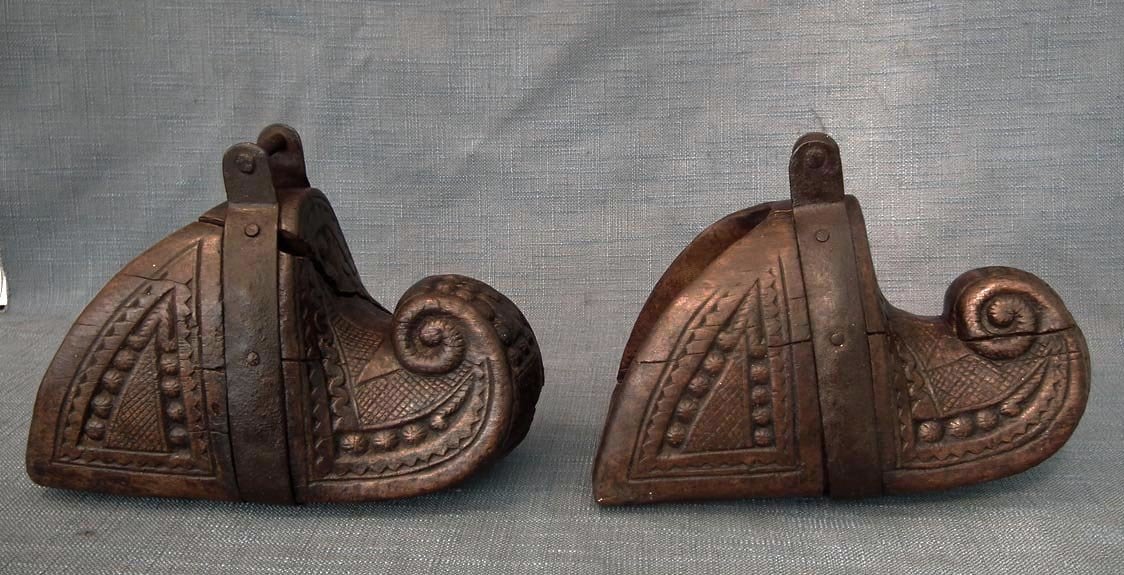 SOLD A pair of antique,17th-18th century, Spanish Colonial large saddle stirrups, each hand carved from one block of solid wood in the form of the boots, adorned on the entire exterior with, skillfully and artistically, hand carved intricate beaded design, and fitted with a riveted iron band rising to the loop for suspension.

CONDITION: Showing the age and usage, shrinkage cracks and minor holes, chips, some nails missing, wear from use, all an aspect of an antique having an age of over 200 years.

DIMENSIONS: Approximately: Length: 24 cm (9.45 inches). Width: 13.5 cm (5.32 inches). Height: 18.5 cm (7.28 inches).

The wood stirrups were made in Spanish America from early 16th century by conquistadors, and continue to be made in a similar style but in slightly different pattern, to the present day. The older 16th-18 century examples are larger than the 19th-20 century examples which are shorter and smaller with slightly square formed toes.

For related stirrups please see the link below: