SOLD Antique 17th 18th century Silver Gilt Greek Mount Athos Boxwood Blessing Cross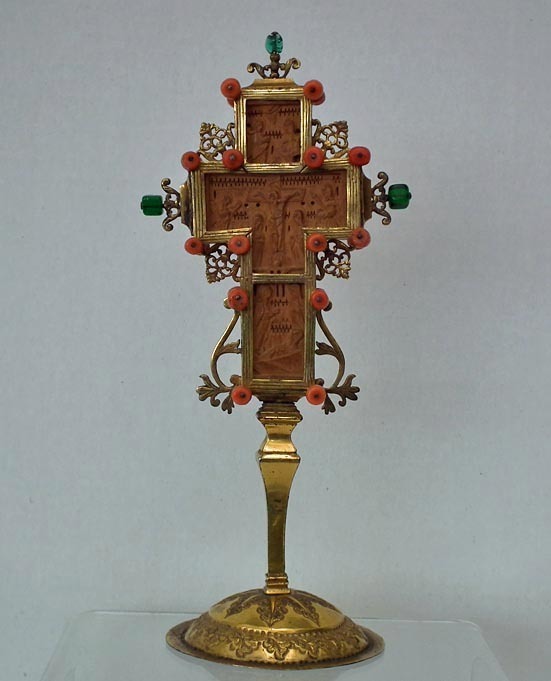 SOLD An exceptional Antique, 17th - 18th century, (Greece Mount Athos c.1650-1800) Greek orthodox double-sided, carved boxwood Blessing altar cross, gold gilded, silver casing with pierced ornaments and set with 28 pink corals and 3 green - pastes and resting on the engraved and repoussé domed base secured by the screw.
Both the front and back intricately carved in miniature scenes divided on each face into three compartments containing Christian religious scenes drawn from the life of Christ and the Virgin Mary. The front carved with the crucified Christ on the center flanked by The Virgin and St. Martha, and at the horizontal cross ends St. Martyr Longings the Centurion on right, and the winged angel on the left. The top depicts Jesus Christ Enthroned attended by the winged angel. The bottom part depicts Anastasis showing Christ and the resurrection of Adam and Eve.
The Verso at the center carved with The Baptism of Christ with Angel and John the Baptist
The top carved with Jesus flanked by two Apostles. The bottom part depicting a scene from the Nativity with St. Joseph, Mary and the baby Christ, with the two heads of animals above.
Another related cross mounted in similar casing, is in the collection of the University Of Michigan Museum Of Art.
Link to view the cross in the University Of Michigan Museum Of Art.
http://quod.lib.umich.edu/m/musart/x-1961-sl-1.177/1961_1_177_VIEW1.JPG?lasttype=boolean;lastview=thumbfull;resnum=9;size=20;sort=relevance;start=1;subview=detail;view=entry;rgn1=musart_da;q1=1650-1800
Link to cross from the University Of Michigan Museum Of Art, published on the internet by Kornbluth Photography.
http://www.kornbluthphoto.com/UMMAStandingCross.html
Link to the related cross in the World Renowned Courtauld Gallery, London
http://www.courtauldprints.com/search/artist/497562/carver-greece-mount-athos-18th-century-1700-1799
There are no visible silver hallmarks, however, we had scratched, in hidden spots, the case of the cross, the bottom of the stem and the domed base under the screw, near the hole, (Please see the last 3 pictures). Under the heavy gold gilding is a solid silver core, tested by acid for purity of the silver which is approximately 700-800 grade.
CONDITION: in very good condition; no repairs or restorations, slightly out of the center. All gold gilding intact with old dirt on the surface which can be easy cleaned.
MEASUREMENTS: Height: 21cm (8 1/4 in).
TOTAL WEIGHT: 207 grams. (7.30171 ounces).