SOLD Antique 1789 Pre-Napoleonic Medal French Revolution Siege Of the Bastille by Andrieu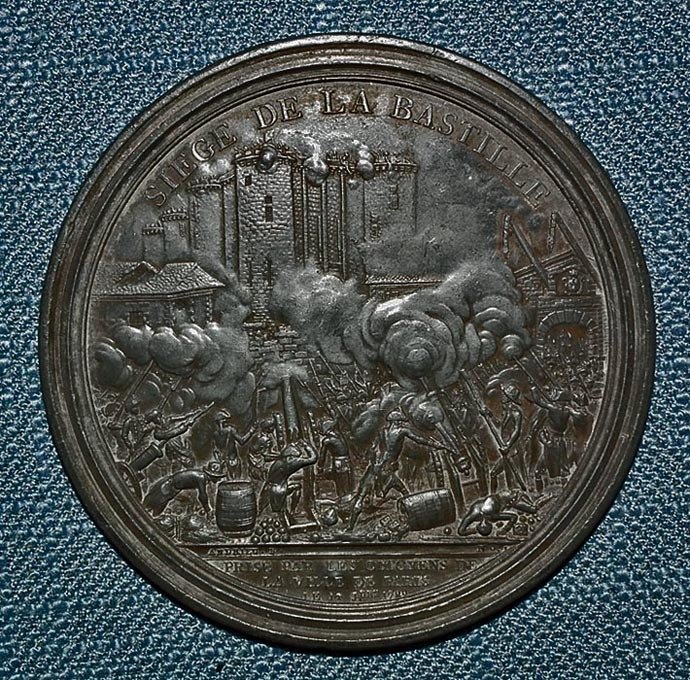 SOLD Authentic Antique medal French Revolution Period," Siege of the Bastille," by Andrieu, Issued in 1789 A.D.

Obverse Description:
View of the siege; above, SIEGE DE LA BASTILLE; in exergue, PRIS PAR LA CITOYENS DE / LA VILLE DE PARIS / LE 14 J.UET 1789. in small letters on exergue line, ANDREAU.F. No1

Reverse: Plain.

Medium: Lead-tin alloy.

Dimensions:
Diameter: 8.5 cm. x 3 mm.


Weight :72 Grams.

By the end of the eighteenth century, medals were widely used as effective vehicles of political propaganda. Usually struck, they were issued in high numbers. The selection on display in The Critique of Reason, highlights key moments and figures of the French Revolution and the Napoleonic Empire. One of the most accomplished medalists of the time was Bertrand Andrieu. His first great success was the highly detailed Storming of the Bastille, July 14, 1789. Production of Revolutionary-themed medals was a statement of freedom.

Those medals were minted in 1789, in Paris, in Lead-tin alloy, with bronze plated surface. Due to the popularity and high demand of these medals, they were issued several times in the year 1798 and were streaked in diameters from 8.0 cm to 8.6 cm: As can be seen on medals preserved in The Frick Collection, 2 medals from The Harvard Art Museums, and the medal in the collection of the Museum Victoria in Australia.

Please See the links below:

http://collections.frick.org/view/objects/asitem/items$0040:2340
http://www.harvardartmuseums.org/art/189598
http://www.harvardartmuseums.org/art/230308
https://collections.museumvictoria.com.au/items/51261

CONDITION: In its original untouched condition, showing the age and usage, bronze plating worn-out, some scratches on the surface, as can be expected from an over 227-year-old medal made of soft, Lead-tin alloy, metal.

Since the first French revolution propaganda medal, " Siege of the Bastille," by Andrieu, came to be very popular among collectors and because they were made of Lead-tin alloy, and easy to reproduce, many of these medals were replicated during the 20th century, which for inexperienced collectors look the same as the authentic medal from 1789, we would like to inform our clients that this is a 100% authentic antique medal minted in 1789, and is accompanied by a Certificate of Authenticity.