SOLD Antique 16th -18th Century Turkish Ottoman Islamic Gold Inlaid Mace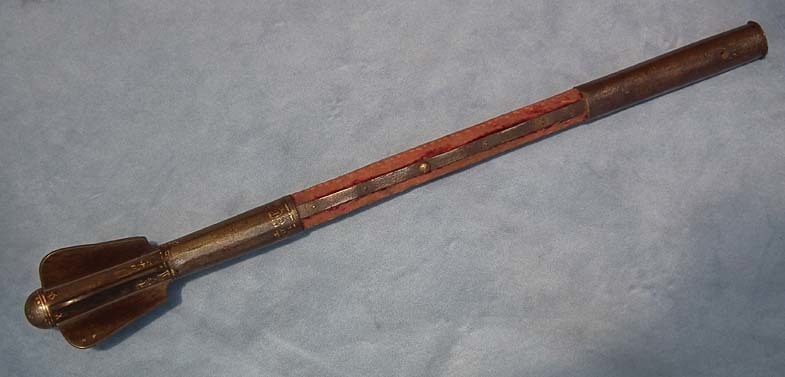 SOLD Rare Authentic Antique 16th -18th century huge Turkish Ottoman Islamic flanged Mace, of superb quality, decorated with Gold inlaid koftgari. These luxurious quality gold inlaid Islamic maces were used as a symbol of authority of the commanders of the Islamic army including Sultans.

As a professional antique business, we provide our customers with the date and description of the item on the base of the references including books and internet sources. Recently we were able to find an almost identical Islamic mace in the book, The Decorative Art Of Arabia by Jules Bourgoin. This book shows the most spectacular Islamic Art Works. Plate 82 displays a set of arms & armour of Mameluke Sultan Tuman Bay II where presented amongst his arms is a related mace to our mace except that his mace the wooden haft is covered in blue fabric and our mace is wrapped in red fabric. Also the gold inlaid on the Sultan mace is well preserved which our mace has most of the gold inlaid worn out. We have attached to the listing a picture of a page from this book, also a link to view it on the internet and a link to Wikipedia about the Sultan Tuman Bay II.

After the defeat of Mamluk and the conquest of Egypt by the Ottoman Turks, many Mamluk's arms and armour were captured by Turks as war bounty and were used by Ottomans. Since these arms and armor were better quality than Turkish arms, they started to make arms and armour in Mamluk fashion, so we are not able to tell if this mace is made by Mamluk or by the Ottomans.

DETAILS: A pear - shaped steel head formed of six sturdy flanges with domed central finial, on its original massive wooden haft, covered with crimson velvet, with a long tubular facet steel socket and grip, fitted with a single full-length iron strap between.

MEASUREMENTS
Overall length: 64 cm (25.2 inches)
Height of the iron head including socket: 21.8 cm (8.58 inches)

This is the largest mace of this style which we have ever seen, the steel head is huge compared to other Islamic maces, so definitely the mace has bout functions as a combat weapon and the symbol of authority with such powerful mace can easily crush not only a skull of an enemy during combat but also a helmet.

https://s-media-cache-ak0.pinimg.com/736x/f5/a1/4a/f5a14a9c81f966a7244f14c9b6ed4533.jpg

https://en.wikipedia.org/wiki/Tuman_bay_II

CONDITION: In its original condition showing age and usage with a dark patina, the gold inlay on the steel handle is worn, also the crimson velvet on the wooden haft is worn.