SOLD Antique 16th - 18th Century India Bronze Figure Indian Hindu Goddess Deepa Lakshmi Lamp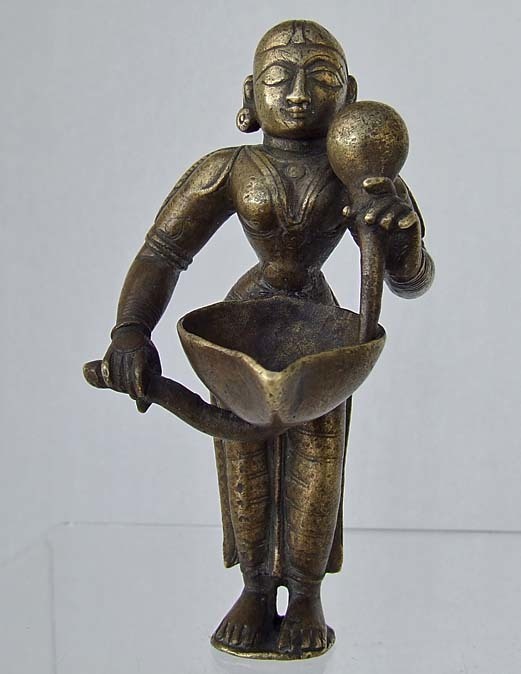 SOLD Authentic Antique, 16th - 18th century, India, finely cast, and skillfully hand chased bronze figure depicts an Indian Hindu goddess, Deepa Lakshmi. She is standing, in slight tribanga pose, on a plain circular base, clad in a long dhoti incised with patterns tied at her waist with a belt, her upper torso adorned with necklaces, and her arms with armlets and bracelets, her face with elongated almond eyes, straight nose and serene smile flanked by elongated earlobes with circular earrings, her hair plaited in a long ponytail. She holds in her right hand a lamp vessel which would be lit typically, during the festival of lights (Diwali) held in October/November. Holding in her raised left hand a bulbous lotus stalk.
CONDITION: In good condition considering its age and usage, the surface with a dark patina, worn out on the exposed areas.
MEASUREMENTS: Height: 12 cm (4.72 inches).
Goddess Lakshmi, also known as Deepa Lakshmi. Lakshmi is the Hindu goddess of wealth, prosperity (both material and spiritual), fortune and the embodiment of beauty. It is also said that she brings good luck and protects her devotees from all kinds of misery and money-related sorrows.