SOLD Antique Islamic Armour Bazuband Indo Persian Bazu band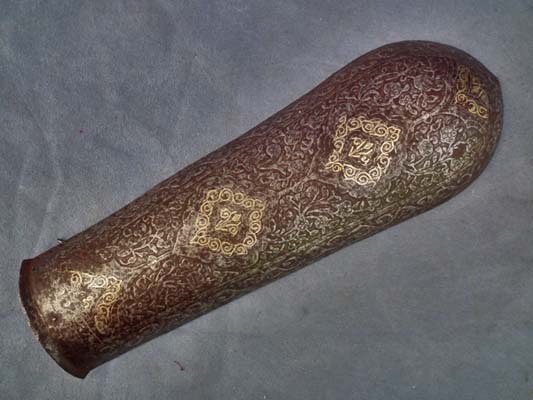 SOLD Antique 18th century Indo Persian Arm Guard Bazu band – Bazuband. Made of steel in a typical Persian form, beautifully decorated throughout with floral arabesques, highlighted in silver koftgari, and central lobed medallions in gold damascening.
MEASUREMENTS: Length 30.5 cm (12 in). Width at the widest point: 10.2cm (4 in)
CONDITION: In good condition and shape considering its age, with signs of age and usage.
REFERENCES: (1) A related Bazu-Band from the collection of the Malborg Castle Museum is published in the book: "Persian and Indo-Persian Arms and Armor of the 16th-19th Century from the Polish Collection –Catalogue exhibition Malborg Castle Museum" by Antoni Romuald Chodinski, (2)"A Glossary of the Construction, Decoration and Use of Arms and Armour in All Countries and in All Times" By George Cameron Stone.