SOLD Antique Indo Persian Mughal Shield Dhal Separ 18th century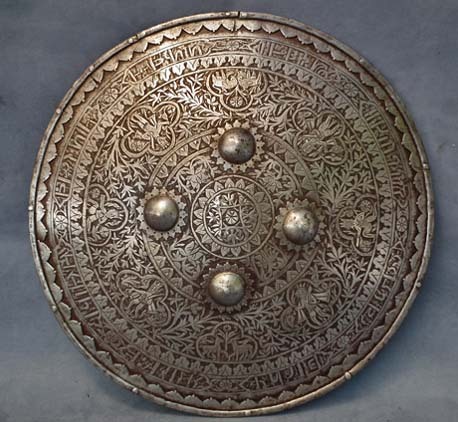 SOLD An exceptional antique 18th century Indo Persian Mughal shield (Dhal Separ). Made of well hand hammered solid steel of circular convex form, hand chased in low relief, damascened in silver koftgari with foliage, and adorned with six cartouches containing six figures armed with guns, swords, war maces, and two cartouches enclosing antelopes and elephants. An extreme edge reinforced by an applied brass band. The center is decorated by a rosette surrounded by four domed bosses, with bolts on the back for a rope (to hold the shield). The rim of the shield is appliquéd by a broad reinforcing band with a serrated border.
MEASUREMENTS: Diameter: 40.3 cm (15 7/8 in).
CONDITION: In good condition for its age.