SOLD Antique Chinese Qing Dynasty Bronze Standard Finial Halberd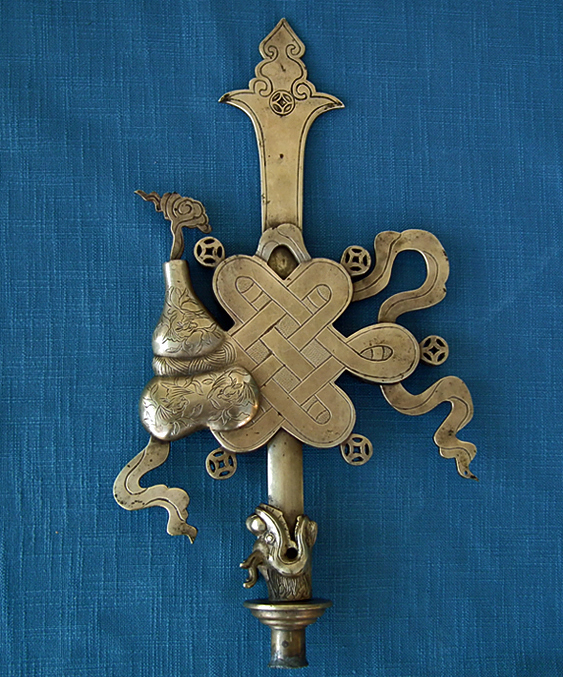 SOLD Antique Chinese Qing dynasty period 1644 -1912 Large Bronze Ceremonial elaborate Standard finial made of several separate pieces, comprising central blade in the form of Wisdom Sword of Manjushri, with chiseled details including Cash coin and line and scroll borders mounted in large central block in the form of Auspicious Endless Knot with Bottle gourd engraved with bats (symbol of happiness and fertility) and adorned with five cash coin Double Gourd The socket of the finial, surmounted by a full modeled Qiulong a horned dragon head within freely inserted in his open jaw a base of the Wisdom Sword blade.

MEANINGS OF AUSPICIOUS SYMBOLS:
Sword of Manjushri: Manjushri is a Bodhisattva who represents wisdom, he holds a sword in his right hand — symbolizing his ability to cut through delusion.
Auspicious knot: symbol of longevity, infinity, and eternity.
Bottle gourd: symbol to ward off evil spirits and disease.
Cash coin: emblem of wealth.
Dragon: a symbol of Imperial power, authority, strength, and good luck.
Bats: symbol of wealth, good fortune longevity and happiness.

DIMENSIONS: Height: 49.5 cm (19.49inches). Width: 24.5 cm (9.65 inches).


CONDITION: in good condition considering its age to be over 100 years showing its age and usage, the end of the tubular socket with remains of tin solder.