SOLD Antique 19th Century Sephardi Jewish Bridal Wedding Silver Headgear Turkish Ottoman Empire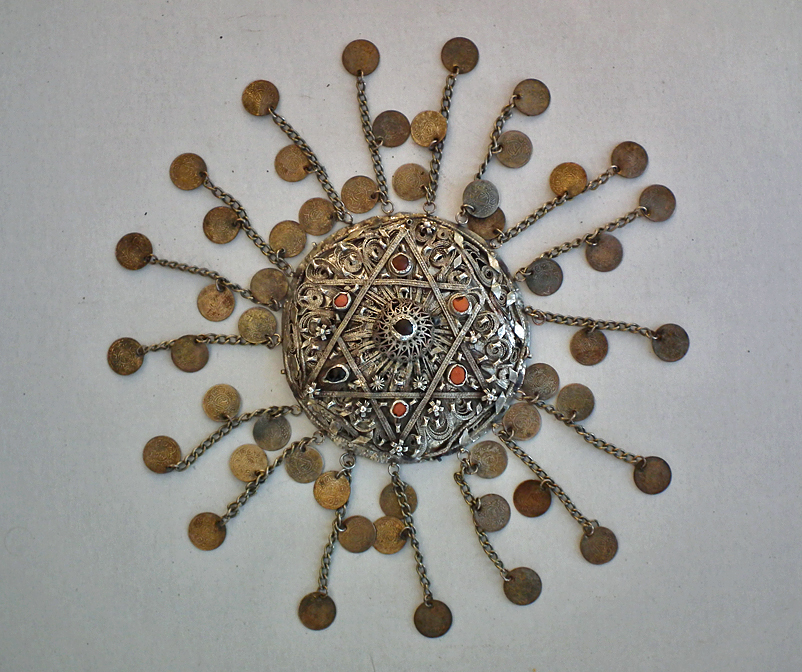 SOLD Antique 19th century Sephardi Jewish bridal wedding headgear from the Turkish Ottoman Empire. Made of silver alloy composed of a of three sections; a domed form dis with the outer face applied entire with delicate filigree work of twisted and soldered with excellent precision wire with the central design of the Star of David (Magen David) with raised dome at center, set with corals and paste stones and a series of chains with disc attachments resembling a Turkish Ottoman coins.an similar type of the wedding headgear were used by the different ethnic groups of ottoman empire however the large star of Davidon the top of the head ornamentdistinguished from their Muslim and other ethnicneighbors since in the 19th century the star of David has been recognized all over the world as the Jewish national symbol and come to be used strictly by Jews .
The Ottoman Empire cover a large territory including a Balkan, east Mediterranean, North Africa and Middle East and part of Arabia. Jewish communities were in all over the territories of the Ottoman Empire.
CONDITION: In good condition considering its age, showing the age and usage with old patina. No repairs or restorations, some losses to the two corners of the Star of David, missing some chains with disc attachment.
DIAMETER: 11 cm (4.33 inches) Height: 3 cm (1.18 inches).
To see the Sephardi Jewish bright wearing similar headgear's please click on the link below:


https://www.pinterest.com/pin/139048707219089539/