SOLD Antique 19th Century Chinese Qing Dynasty Sword Dao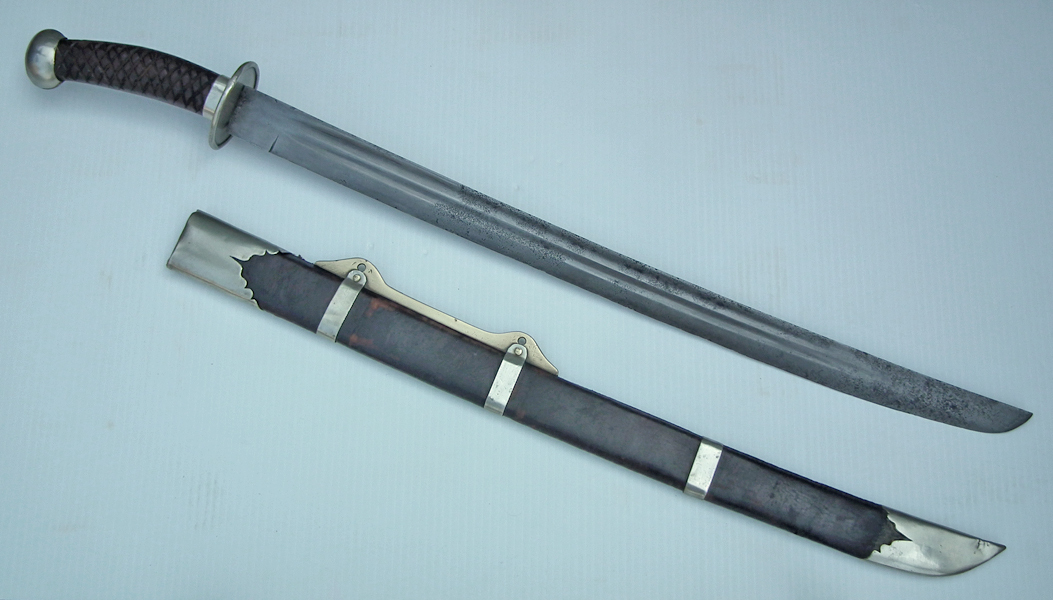 SOLD Antique 19th century Chinese Qing Dynasty sword Peidao. A hand forged slightly curved, single – edged, sturdy blade, cut on each face with two fullers. Hilt in Yuanshi style mounted in a low grade silver alloy oval shaped guard, ferrule and bulbous pommel, with a rosewood grip decorated with a checkered pattern. The wooden scabbard is bound in brown leather, mounted with a low grade silver alloy elaborated locket, chape, three bands, and a brass bar for suspension.


Condition: The blade is pitted. The locket, chap and pommel is with abrasion and minor dents. All of this is an aspect from a used antique combat sword that is over 100 years old combat sword.
MEASUREMENTS:
Overall length in the scabbard: 80.5 cm (31.69 inches).
Overall length without the scabbard: 78.5 cm (30.91 inches).
Due to the fact that the market is flooded by reproductions of Chinese swords, which for inexperienced collectors look the same as authentic objects, we would like to inform our clients that this is a 100% authentic Chinese sword and not a reproduction, and is accompanied by a Certificate of Authenticity.
REFERENCES:
1. Iron and Steel Sword of China. Editor: Huang Pujian.
2. Soldiers of the Dragon: Chinese Armies 1500 BC-AD 1840.by C.J. Peers: