SOLD Antique 18th century Tibetan Damascus Steel Gold gilded Sword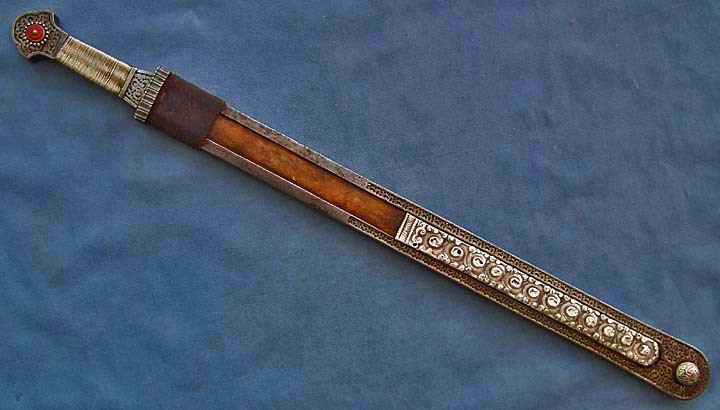 SOLD An antique Tibetan short sword of the 18th century with a tapering single edged blade made of laminated and folded Damascus steel .The hilt is composed of, a fluted steel crossguard, a wooden grip bound with silver wire, steel ferrule, and pommel are chased in low relief on the outer side with scrollwork, the pommel is set with a large coral in gild silver setting.
In its original scabbard of leather covered wood encased in an iron frame pierced with scrollwork that is highlighted with gold, and engraved along the sides with parcel gild fret pattern. The display face of the scabbard is applied with a large silver panel that is embossed and chased with scrollwork and adorned with a large chased silver boss on the tip.
The superb fine quality of the sword including the Damascus steel blade, the gold gilding, and the grip wrapped in silver wire indicates that the sword was meant for an individual of high status.
CONDITION: Age and usage is showing, the silver panel is worn, and there is light wear in gold gilding. However, the sword is in good condition considering that its age to be of 200 years.
REFERENCES: There are two very similar 18th century Tibetan swords from the collection of the Metropolitan Museum of Art, New York, and are published in the book Warriors of the Himalayas: Rediscovering the Arms and Armor of Tibet (page 159 - No.63, page 160 – No.64).
MEASUREMENTS: Overall length of the sword sheathed in the scabbard: 63 cm (24 3/4 in), the Overall length without the scabbard: 59.7 cm (23 1/2 in).
Please note that this is not a common poor quality Tibetan sword such as most other Tibetan swords but is of museum quality and considered as Tibetan art work, a similar sword to this one can be found on display in the most important world museum.
Please see the links below:
http://www.metmuseum.org/Collections/search-the-collections/27781

http://www.metmuseum.org/Collections/search-the-collections/27783