Antique Japanese Samurai Wakizashi Sword Blade Signed Mitsu
Koto Period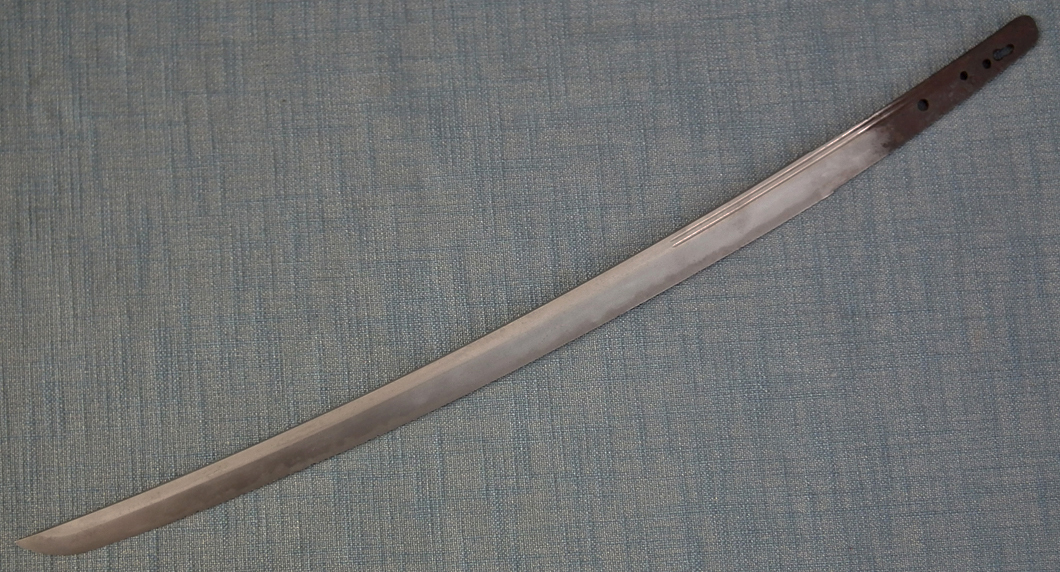 Authentic Antique, Koto period signed Japanese Samurai, Wakizashi sword blade cut with a rare form of grooves.


DETAILS: Slightly curved blade with a visible temper line (hamon) and cut on one side with a full-length fuller with the other side cut with three short narrow grooves.
The tang of the blade has deep, dark black rust and is signed on one side with one Japanese character 光 "Mitsu" and is pierced with five holes where two of them are connected, has its original copper habaki.
CONDITION: The condition is as it was when acquired showing age and usage. The blade is pitted, with many nicks on the cutting edge, and with one nick on the edge of the spine. There are some visible flaws in lamination in the forge layered structure in the steel, particularly on the spine of the blade and inside the full-length fuller. The blade is slightly bent.
Please see the photos as they are a part of the description.


MEASUREMENTS (approximately):



The overall length of the blade with the tang is 62 cm (24.41 inches)
The cutting length of the blade: 47.2 cm (18.58 inches)
Width of the blade: 2.6 cm (1.02 inches)
Thickness of the blade spine: 5 mm (0.35 inches)