SOLD Rare Antique Islamic African Fulani Dagger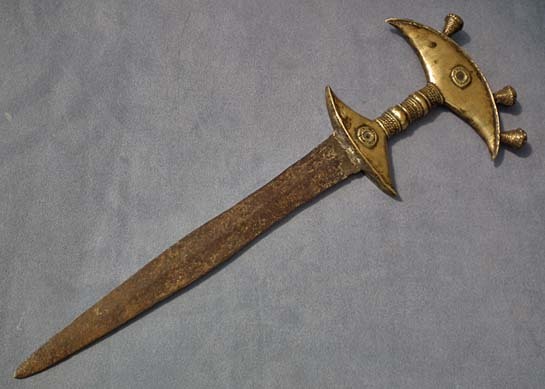 SOLD A very rare antique Islamic African Fulani dagger with an unusual brass hilt of archaic form, with a large flat crescent shaped pommel, with bell shaped adornments, a slim grip with a roped decor, and a shaped straight double edged tapering iron blade with a medial ridge. The form of the cast brass hilt is typical of those used by the Fulani population, mostly spread throughout Northern Nigeria, and Northern Cameroon, but also in other African countries.
CONDITION: Signs of age and usage, some cracks in the brass pommel and the grip, absence of two bell shaped adornments on the pommel, the blade is rusty. The dagger is at least from the 19th century, but possibly much older. These daggers are extremely rare, and this is the first which I have seen. A unique piece for any museum, or private collection.
MEASUREMENTS: The overall length is: 40.6 cm (16 in).