SOLD Rare Antique Indonesian Madura Sword Kris/Keris With Rootwood Hilt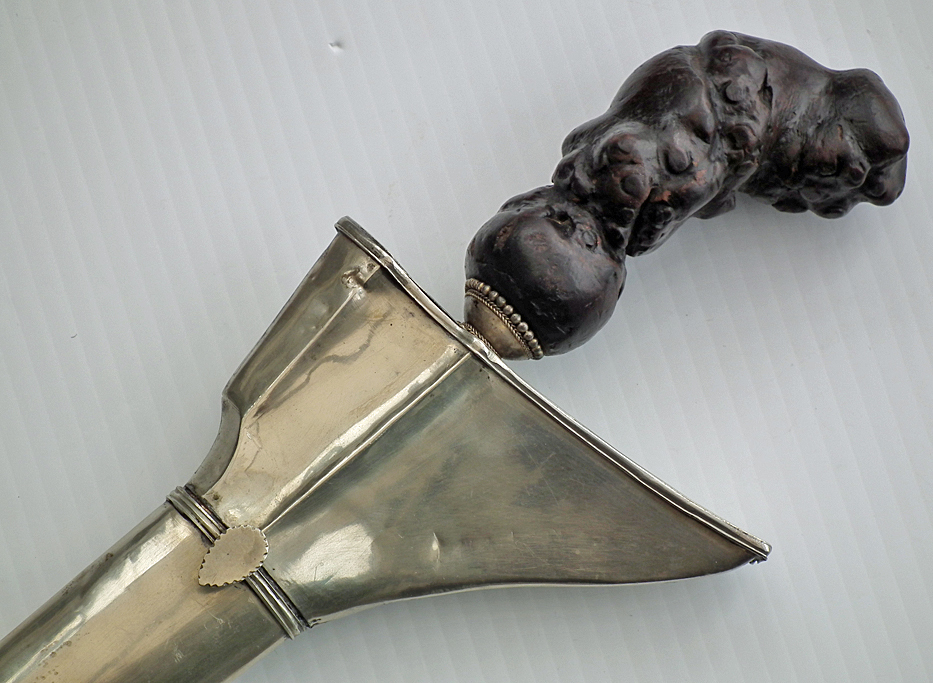 SOLD Rare 18th-19th century antique Indonesian Madura sword Kris/Keris with a sturdy beautifully hand forged Damascus steel blade pamor. The hilt of the keris is made of rootwood, entirely naturally formed by nature, in the shape of the Jawa Deman figure showing a face with a nose facing downwards. The kris is in its original wooden scabbard casing in white metal, which is most likely a low grade silver/nickel.
This is a unique, one of the kind of kris/keris that is seldom seen with such rare rootwood hilt, and there are no other existing examples of this.
CONDITION: Showing age and usage, the surface of the rootwood hilt is covered with a lovely old dark brown patina. Some dents in the metal scabbard, otherwise it is in good condition considering that its age to be 100 years old.
MEASUREMENTS
Overall length of the sword sheathed in the scabbard: 51.4 cm (20.24 inches)
Overall length without the scabbard: 48.7 cm (19.17 inches).