SOLD Rare Antique Chinese 17th -18th century Qing Dynasty Gold Brocade Silk panel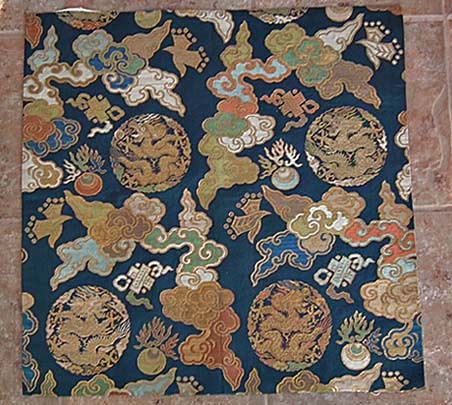 SOLD Extremely Rare Antique Chinese 16th -18th century Ming - Qing Dynasty brocade silk panel finely woven in one piece with gold thread, adorned with four roundels depicting four -clawed Principal Celestial Long Dragons chasing the flaming pearl, within clouds with a recurrent pattern of Precious Things (Babao), including flaming pearls, Pair of Books and Pair of Rhinoceros Horns. All patterned in multicolored silk, richly woven in gold against a Dark blue background. Since this Brocade silk woven with gold is very shiny, we were unable to take proper photographs. The pictures don't justify the extremely high quality and rich colors of this fabric, which in fact, looks much better, showing brighter, richer colors and finer details.
This particular Damask Silk is a master piece of Chinese art heavily woven in gold and with the four-Clawed Dragons which was typically strictly reserved for imperial nobility and high-ranking officials. It was an expensive luxury fabric, most likely made during the 17th century. Similar types of Chinese Silk brocades dating to the 16th -17th century are published in the book "Silks for Thrones and Altars" by Myrna Myers, dated to the Ming and early Qing Dynasty. However to be safe we are dating this panel to the 17th -18th century.
This Rare Chinese Silk Brocade came from an old Canadian collection of Oriental Art, with other textiles, ceramic, jades and Chinese antiques, which we are in the process of photographing and placing for sale for the first time.
Due to the fact that the market is flooded by reproductions of Chinese antiques, which for inexperienced collectors look the same as the authentic objects, we would like to inform our clients that this is a 100% authentic Chinese Qing Dynasty 17th -18th century antique and not a reproduction, and is accompanied by a Certificate of Authenticity.
REFERENCES:
1) "When Silk Was Gold" by James C.Y Watt & Anne Wardwell.
2) Ruling from the Dragon Throne: Costume of the Qing Dynasty 1644-1911 by John E. Vollmer.
3) Imperial Silks: Ch'ing Dynasty Textiles in The Minneapolis Institute of Arts by Robert D. Jacobsen.
4)"Silks for Thrones and Altars" by Myrna Myers.
5) "In The Presence Of The Dragon Throne" by John E. Vollmer.
CONDITION: In very good condition considering its age, and the material from which it is made, showing the age and usage.
Wrinkled on the line where it was folded.
Some spots slight worn.
DIMENSIONS: Since this is an antique fabric panel cut in 19th century from the larger 17th- 18th century piece of silk it can't be expected to be exactly even. The size which we are providing is approximately: 66 cm (26 in) by 66 cm (26 in).