SOLD Rare Antique 18th Century Polish Sword Sabre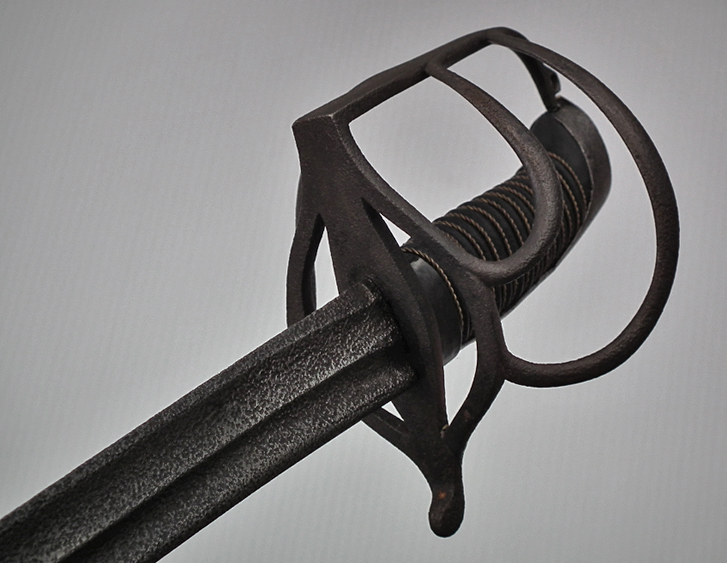 SOLD Very Rare, Authentic antique,18th century, Polish cavalry sword with a plain iron hilt, comprising a steel stirrup knuckle guard with long quillon, oval iron guard, two outer side bars, and one inner bar, plain back-strap with an almond shaped pommel, leather covered wooden grip, bound with brass wire. A long, slightly curved, single edged blade cut with, full - length, twin fullers.
This type of hilt, with oval guard on the center of the quillon, and the side bars, called in Poland, Furdymentand was developed during the reign of King Augustus III (1734-1763).
REFERENCES: Some examples of polish sabers with similar hilts, from the collection of various museums, are published in the Polish book CIĘCIA PRAWDZIWĄ SZABLĄ by Wojciech Zabłocki.
The buyer will be provided with a copy of the pages from the mentioned book, together with a certificate of authenticity.
MEASUREMENTS: Overall length 92 cm (36 1/4 in), length of the blade: 80 cm (31 1/2 in).
CONDITION: Blade and hilt are pitted, leather covered wooden grip, bound with brass wire, leather replacement.
Due to the fact that the market is flooded by reproductions of Polish swords, which for inexperienced collectors look the same as the authentic artifacts, we would like to inform our clients that this is a 100% authentic antique Polish sword, and is accompanied by a Certificate of Authenticity.