SOLD Rare Ancient Chinese Neolithic Yangshao Culture Pottery Amphora/Jar Circa 3000 B.C.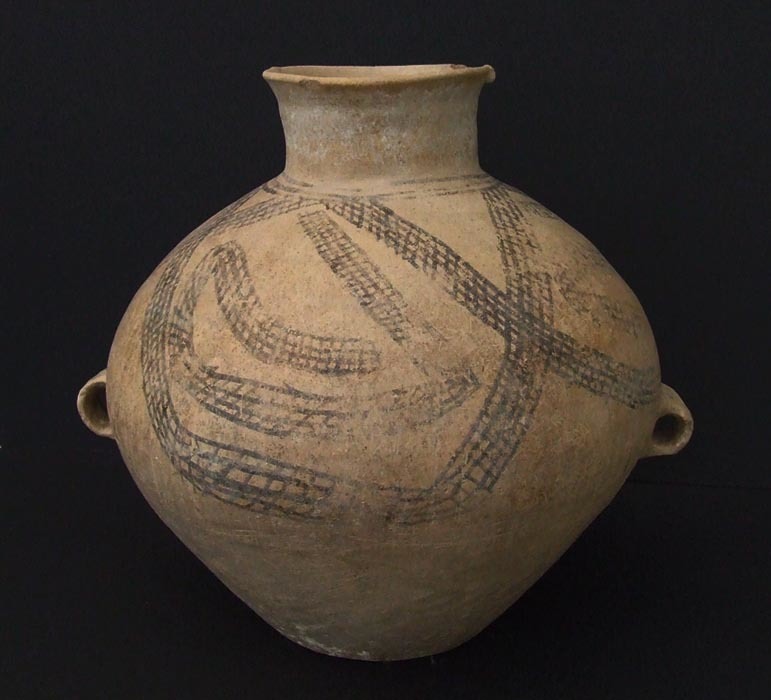 SOLD A superb, large and genuine ancient Chinese Prehistoric two-handled vase / amphora from the Neolithic Period Yangshao culture was made over 4,000 years ago dating to approximately 3000 -2000 BC. Well potted in a compressed globular form set with a pair of small loop handles tapering to the waisted neck rising to an averted rim, resting on a flat circular foot. Painted around the shoulder in its original black pigment with a very rare fishing net pattern which is characteristic for the early Neolithic Period of Yangshao culture.

The Yangshao was a Neolithic culture that existed extensively along the valleys of the Wei River and the middle Yellow River (Huanghe) in northern China. The Yangshao Culture developed during the Neolithic period and is dated from around 5000 B.C. to 2000 B.C. It is one of the earliest settled cultures in China. The culture flourished mainly in the provinces of Henan, Shaanxi and Shanxi.

CONDITION: Very good overall condition with a minor two chips on the rim of the neck, no cracks, repairs, or restorations. showing its age and usage, worn out on the exposed areas, with age patina. Light surface abrasion and paint loss consistent with age. Mineral Deposits, encrustation and staining as would be expected.

DIMENSIONS: Height: 33 cm (13inches), Width from handle to handle: 37cm (14 1/2 inches).

Due to the fact that the market is flooded by reproductions of Chinese antiques which for inexperienced collectors look the same, we would like to inform our clients that this is an 100% authentic Antique Chinese Neolithic Period Yangshao culture artifact and is accompanied by a Certificate of Authenticity.