SOLD Presentation Military Gurkha Rifles Kothimora Knife Ram – Dao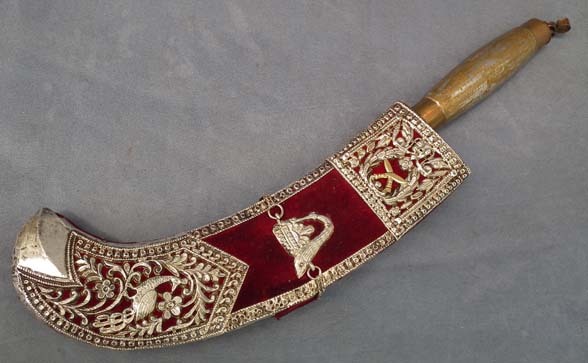 SOLD A World War II very rare unusual presentation military Gurkha Rifles Kothimora Knife in the form of Ram – Dao. Details: A wooden scabbard covered in burgundy velvet, the exterior mounted with a large silver locket, pierced and chiseled in relief with scrolling foliate and floral motifs, against a red background incorporating a Gurkha Rifles badge, surmounted by a tiger head. A large silver chape decorated with a peacock, and connected with a locket by two solid silver reinforcement straps. The middle of the scabbard is adorned with a repousee silver plaque, with the chain to lock the scabbard. A curved sturdy extremely well made steel blade, engraved and inlaid with brass, mounted in a gold painted white metal hilt, with a brass cup and ferula.
CONDITION: In good condition.
MEASUREMENTS: Overall length with the scabbard: 34 cm (13 3/8 in).