SOLD Pair OF Antique Chinese Qing Dynasty Shuang Dao Niuwei Dao Swords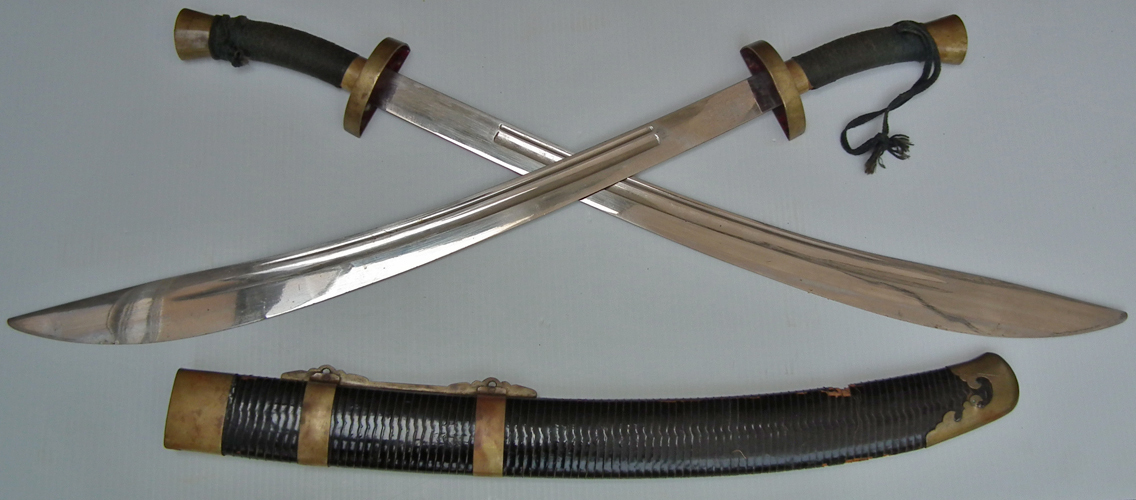 SOLD Rare pair of Antique late 19th century Boxer Rebellion period Chinese Qing Dynasty, Shuangdao niuweidao- Ox-Tail swords slightly curved, single – edged, nickel plated broad steel blades, cut on each face with two fullers. Hilts mounted in brass guards, ferrules and pommels, wood grips wrapped with green cord. A black lacquered wooden scabbard bound in brass wire, mounted with a brass elaborated locket, chape, and suspension mounts.


Condition: In good condition, showing age and usage, nickel plating with some flecks, minor nicks on the edges of the blades, wooden scabbard is chipped, and some flakes in the lacquer finish. All of this is an aspect from an over 100 years old used antique swords.
Since the blades are very shiny/reflective, thus we were unable to take proper photographs of the swords, and the blades on the pictures are with reflection streaks which in fact looks much better.
Overall length in the scabbard: 87 cm (34.25 inches). Overall length without the scabbard: 85.5 cm (33.66 inches).
Due to the fact that the market is flooded by reproductions of Chinese swords, which for inexperienced collectors look the same as authentic objects, we would like to inform our clients that this is a 100% authentic Chinese antique sword and not a reproduction, and is accompanied by a Certificate of Authenticity.
REFERENCES:
1. Iron and Steel Sword of China. Editor: Huang Pujian.