SOLD Original Polish Army Helmet Wz 31 Salamander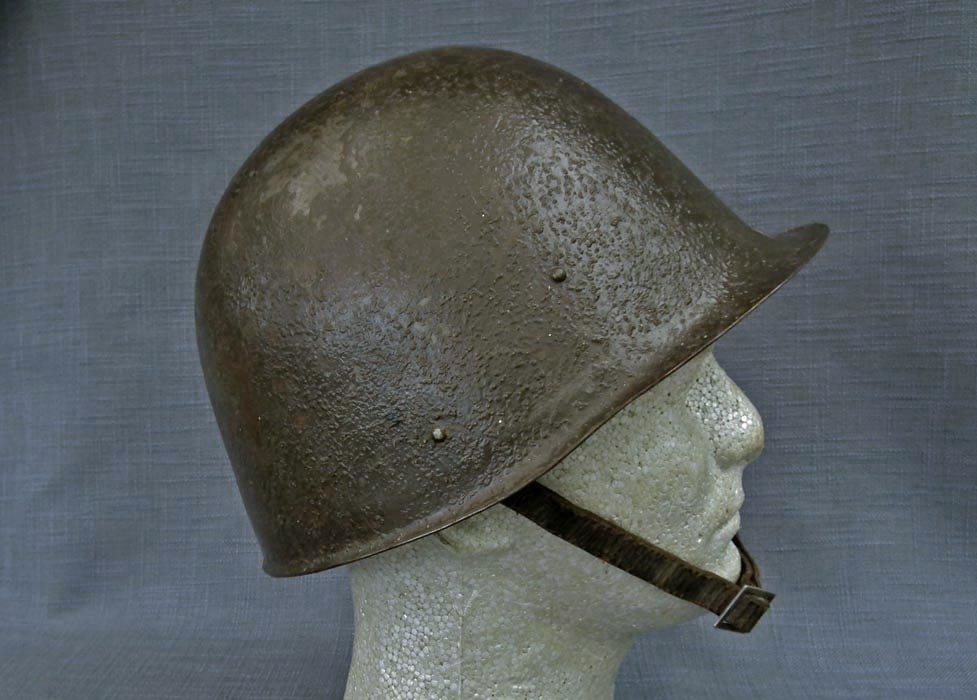 SOLD An original, pre - World War II, Polish Army Wz 31 Salamander helmet complete with its original leather liner and canvas cushions and chin strap, along with the original finish. The domed interior stamped near the rim with serial number 2 5, the metal band in the interior and the control rivet stamped with acceptance stamp K over 2 in ellipse (Inspector Tadeusz Księżycki). There is also remains of the writing in black paint in the interior of the helmet, possibly Ludwikow Kielce marking, please see the last picture in the listing.

CONDITION: Very nice condition. complete and untouched, in as found condition.

Wear and finish loss are present in areas of the shell, along with light surface rust in spots. No holes, dents, or cracks are present on the shell, and all pins/rivets are present. The suspension looks good and is sturdy with typical staining. One of the cushions no longer has the stuffing in it. The chin strap is complete and unbroken but does display some drying and cracking.

The original Polish Army Wz 31 "Salamandra" helmet is one of the rarest WWII helmets since most of them were melted by Germans during the WWII. In these circumstances the Wz 31 Salamander helmets recently has been replicated in large numbers.

We would like to inform our clients that this is a 100% authentic pre - WWII Polish Army Wz 31 Salamander helmet, and is accompanied by a Certificate of Authenticity.

We were fortunate to acquire this bayonet together with other Polish antiques, including antique Polish arms and armour from an old Canadian collection.