SOLD Jean Paul Lemieux (Canadian, 1904-1990) "Saskatchewan" Screen Print Signed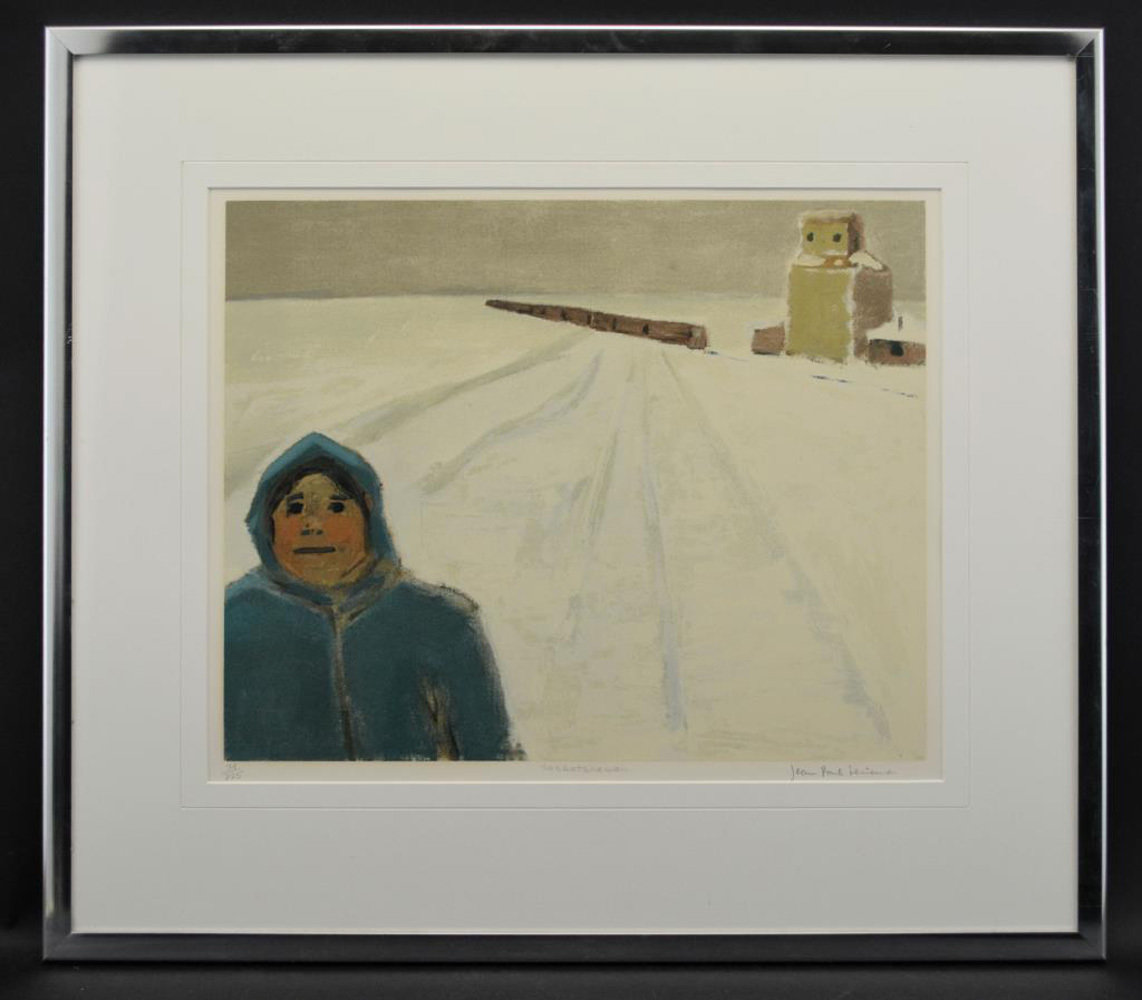 SOLD Framed & Matted (doesn't have glass), color screen print by listed Canadian artist Jean Paul Lemieux. Signed, titled and numbered 74/225 in pencil.

Measurements

Framed: 77 cm x 67.5 cm. (30 5⁄16 inches x 26 37⁄64 inches)
Image: 50.8 cm x 40.64 cm (20 inches x 16 inches)

Jean Paul Lemieux, CC GOQ (18 November 1904 – 7 December 1990) was one of the foremost painters of twentieth century Quebec. He was born in Quebec City, where he also died (Colin S. Macdonald claims he died in Montreal). He was raised in Quebec City until 1916, when his family moved to Berkeley, California. In 1917, the family returned to Quebec and settled in Montreal.
From 1926 to 1934, Jean Paul Lemieux studied under Edwin Holgate and others at the École des Beaux-Arts de Montréal (Montreal School of Fine Arts). In 1929, he traveled to Europe with his mother. In Paris, he studied advertising and art, frequents other artists. Lemieux took teaching positions from 1934, first at the École des Beaux-Arts de Montréal, then in 1935 at the École du meuble (Furniture School). In 1937, he moved to Quebec City and taught at the École des Beaux-Arts de Québec until his retirement in 1965. His connections at that period include other major artists associated with these schools, such as Alfred Pellan and Paul-Émile Borduas.
In 1960, works by Lemieux along with those of Edmund Alleyn, Graham Coughtry, Frances Loring and Albert Dumouchel represented Canada at the Venice Biennale.[1]
Jean Paul Lemieux received several awards for his works, including the Louis-Philippe Hébert prize in 1971 and the Molson Prize for the Canada Council for the Arts in 1974. In 1968, he became a Companion of the Order of Canada. He was also a member of the Royal Canadian Academy. In 1997, he was posthumously made a Grand Officer of the National Order of Quebec.
A set of postage stamps depicting three works by Lemieux, Self-portrait (1974), June Wedding (1972) and Summer (1959) were issued by Canada Post on Oct. 22, 2004. The stamps were released on the day that a retrospective of his work organized to recognize the centenary of the artist's birth opened at the National Gallery of Canada. A retrospective exhibition of his works from 1956 to 1979 took place at the Gallery Valentin in 2009.

Link to Wikipedia; https://en.wikipedia.org/wiki/Jean_Paul_Lemieux