SOLD Huge Antique 18th - 19th century Turkish Ottoman Sword Islamic Yatagan Yataghan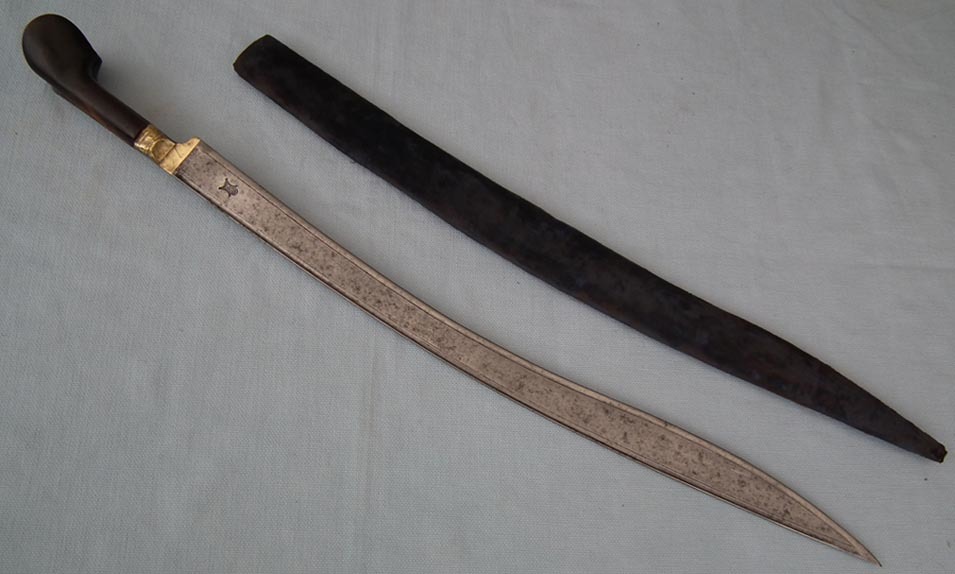 SOLD Huge, antique 18th - 19th century, Turkish Ottoman Sword, Yatagan-Yataghan.
DETAILS: A characteristic ear shaped hilt formed of two pieces of dark brown horn, retained by two iron rivets, complete with brass ferrule. A huge and massive, recurved, single - edged steel blade, with traces of Damascus pattern, with full length narrow fuller below the spine, and cut on each side with pairs of slender fullers.
The forte deeply struck with an Ottoman sword smith's mark, a cartouche inscribed in the Arabic alphabet. In its original wooden scabbard covered with navy blue velvet (the fabric is probably leather replacement).

This is the largest example of a Yatagan sword I have ever seen.
MEASUREMENTS: Overall length of the sword sheathed in the scabbard: 88.8 cm (35 in), the Overall length without the scabbard: 87.8 cm (34 5/8 in).
CONDITION: The sword is in good condition considering its age, age and usage is showing, the blade has some wear and some stain marks, the horn hilt with age cracks.
REFERENCES:
1) "Yanissari – History Symbols Weapons" by G.E.Vvedensky.
2) "Zbirka Jatagana" by Dora Boskovic.
3) "Les Armes Blanches do Monde Islamic" by Alain Jacob.
4) "The Janissaries" by David Nicolle.