SOLD Exceptional Antique 19th Century Qing Dynasty Chinese Sword Dao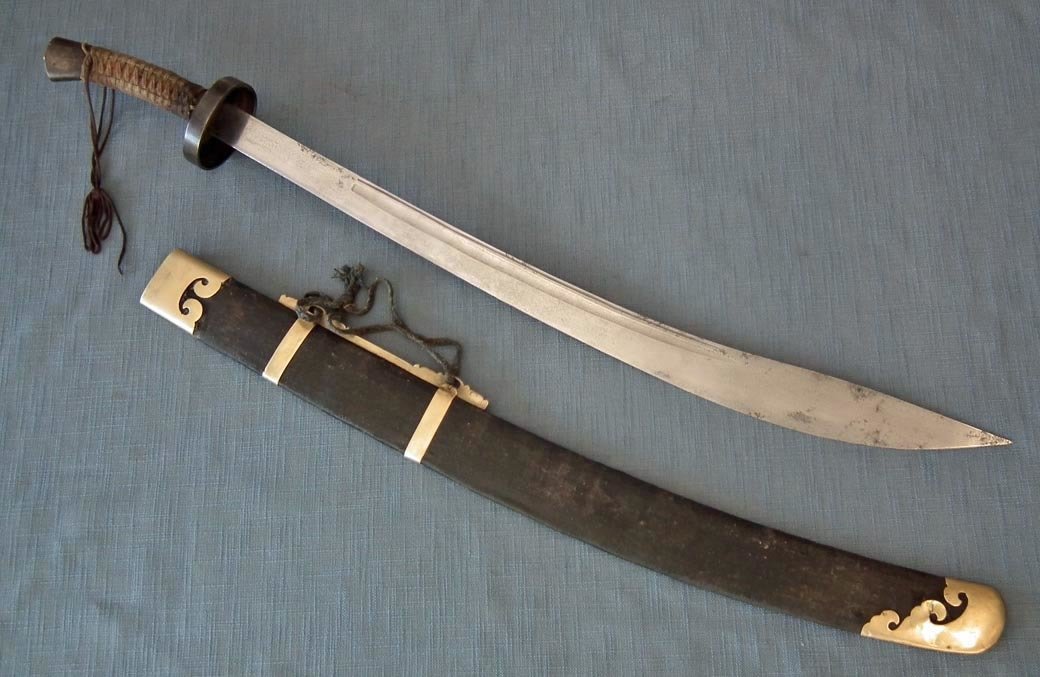 SOLD Exceptional antique, 19th century, Chinese, Qing Dynasty, large sword Dao (Ox Tail Saber). A very well hand forged, massive and thick, very sharp steel blade made of high carbon steel, cut on both sides with a broad fuller and a slender fuller along the back-edge, both sides of the blade are engraved at the forte with a horned Dragon.

When the blade is tapped by finger the steel rings with a very high pitch, indicating good high carbon hard steel.

Mounted in a dense iron, oval shaped, guard and pommel with a wooden handle wrapped in braided cord, with its original tassel.
A wooden scabbard bound in black painted fabric, mounted with an elaborated brass locket and chap, large fittings with loops for suspension, with its original cord for suspension.

Please note that this is not a common Dao sword characterized by having a tin and light blade as most other Dao swords but the blade of this sword is unusually thick and heavy with a very well made massive thick iron guard and hilt fittings.

MEASUREMENTS:
Overall length with the scabbard: 98 cm (38.58 inches).
Overall length without the scabbard: 95.5 cm (37.6 inches).
Length of the blade: 77.5 cm (30.51 inches).

Width of the blade at the widest point: 5.5 cm (2.17 inches).
Thickness of the blade spine: 10 mm (2.17 inches).

CONDITION: This sword is in good condition showing its age and usage, blade slightly pitted, wear to the engravings, the lower part of the blade below the fuller slightly bend, some repairs to the locket, brass fittings with some abrasion. All of this is an aspect from a used antique combat sword that is over 100 years old.

Since the market is flooded by reproductions of Chinese swords, which for inexperienced collectors look the same as authentic objects, we would like to inform our clients that this is a 100% authentic Chinese antique sword and not a reproduction, and is accompanied by a Certificate of Authenticity.