SOLD British Heavy Cavalry Sword Pattern 1796 Waterloo1815 format DAWES, BIRMINGHAM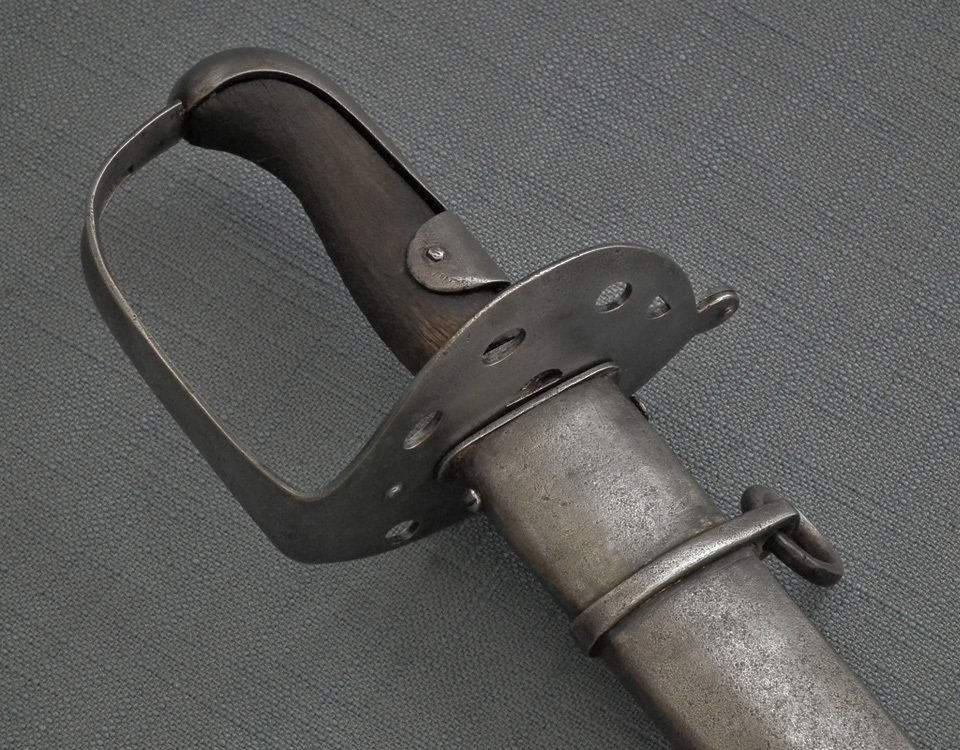 SOLD A very rare Napoleonic Wars, Waterloo period, British heavy cavalry trooper's sword Pattern 1796 by DAWES, BIRMINGHAM. In 1815 Waterloo format issue with Spear point, blade, modify steel disk hilt, and removed, langets.

Another surviving example of this type rare British heavy cavalry trooper's sword Pattern 1796, is in the collections of the National Army Museum, London which can be viewed on line.
https://collection.nam.ac.uk/detail.php?acc=1975-10-91-1


Six days before the Battle of Waterloo (1815) a General Order was given to re-grind the swords blades from the hatchet point, to a sharp, spear point in imitation of the blades carried by French cuirassiers, this made them effective for thrusting against French cavalry there were also made two modifications of the hilt, the langets were also removed (as in this example) and the sharp inner edge of the disc guard was cut back to avoid fraying of the uniform.

James Smithies, of the first Royal Dragoons, writing of the period immediately before Waterloo, recalled that, 'For the first time ever known in our army, the cavalry were ordered to grind the backs off their swords...'



A massive single edged blade with spear -point, cut on both sides with broad full-length fullers, signed on the back edge 'DAWES, BIRMM.' DAWES, BIRMINGHAM and struck on the forte with crowned inspectors mark.
Steel hilt with pierced circular guard adapted in the field, langets removed, the knuckle-bow, pierced with a slit for the knot, wooden grip roofed by steel backstrap with the normal ears. In its original iron scabbard with two suspension rings.


CONDITION:
In reasonably good condition showing signs of genuine wear and use, complete with an original steel scabbard with two hanging rings. The blade in a wonderful state, with a few minor combat nicks on the edge and slight pitting. There is some wear to be expected from an old combat sword. The scabbard and hilt has minor pitting. The leather binding from the grip is missing. There are few small notches at the spin of the scabbard, made by other sword during the combat. All tight and as should be. A fine example of a very rare antique over 200-year-old combat sword with evidence of having been used in battle.

MEASUREMENTS:
Overall length: 101 cm (39 ¾ inches)

Overall length without the scabbard: 97 cm (38.189 inches)

Length of the blade: 83.5 cm (32.87402 inches)

Width of the blade at the widest point: 4 cm (32.87402 inches)

Thickness of the blade spine: 10 mm (0.35 inches).

WEIGHT: 2.034 kg = 4.484 lb.

REFERENCES:
1. Swords of the British Army: The Regulation Patterns 1788 to 1914 (Revised Edition) by Brian Robson. A National Army Museum Publication. Page 19. No 15. Page. 20. No.16

2.Swords of the British Army: The Regulation Patterns 1788 to 1914 by Brian Robson. Arms and Armour Press. 1975. Page.26-27.

Here is a well-known description of the how the brutal power of the weapon was made use of by Sgt. Charles Ewart, 2nd Dragoons (Scots Greys, as seen in the painting 'Scotland Forever, by Lady Elizabeth Butler) concerning how he captured an Imperial Eagle at Waterloo:

'It was in the charge I took the eagle off the enemy; he and I had a hard contest for it; he made a thrust at my groin I parried it off and cut him down through the head. After this a lancer came at me; I threw the lance off my right side, and cut him through the chin upwards through the teeth. Next, a foot soldier fired at me, then charged me with his bayonet, which I also had the good luck to parry, and I cut him down through the head; thus, ended the contest.'

The words of Sgt Ewart, Scots Greys, eagle winner at Waterloo:

'One made a thrust at my groin. I parried it off and cut him down through the head. A lancer came at me - I threw the lance off and cut him through the chin and upwards through the teeth. Next, a foot soldier fired at me and then charged me with his bayonet, which I had also the good luck to parry and I cut him down through the head. This ended it.'