SOLD Antique late 18th - early 19th century Polish Cavalry Sword, Sabre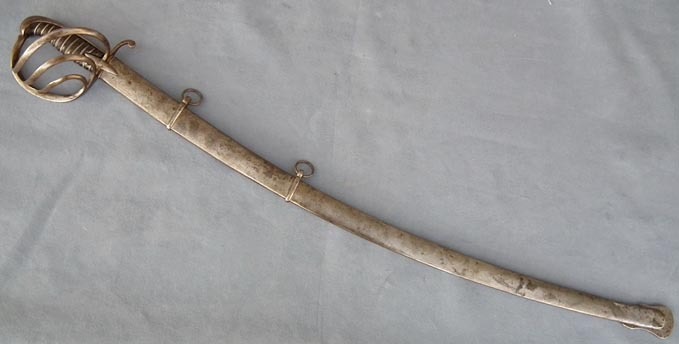 SOLD Antique late 18th - early 19th century polish cavalry sword. DETAILS: A slightly curved single edged blade cut with a full-length fuller and a slender fuller along the back-edge. A four-bar guard steel hilt with langets, plain back-strap and a black, sharkskin covered,wooden grip bound with roped silver wire. The steel scabbard with two suspension rings appears to be incorporated from another sword from the same time period.
A hilt formed from four flattened steel bars is a very distinguishing feature for Polish swords from the late 18th - early 19th cenury. All swords of similar hilt, from other countries, have three bars positioned at a different angle and mostly made of brass.
MEASUREMENTS: Overall length: 98 cm (38 5/8 in), the length without the scabbard: 95.5 cm (37 5/8),
CONDITION: In good condition considering its age (showing its age and usage).
REFERENCES: A very similar Polish sword from a Russian collection is published with color photographs in the Russian Book, "Polish Sword" by Wlodzimierz Kwasniewicz. Saint Petersburg 2005.Please see the picture attached to the listing. Also a Polish sword with a four-bar steel hilt from the late 18th century (during the reign of king Stanislaus Augustus) is depicted in the book: Polska Bron Wodzow i Zołnierzy by Zdzisław zygulski Page 73.