SOLD Antique early 19th century American Infantry Officer Sword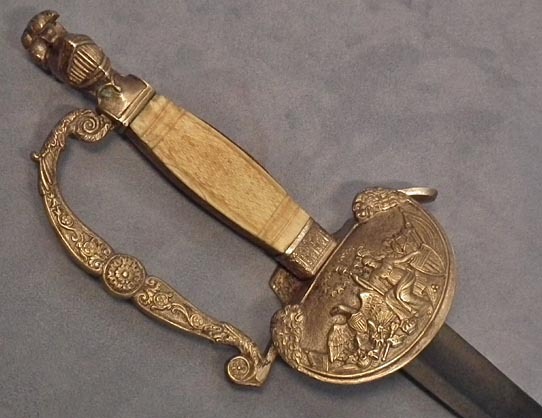 SOLD Antique early 19th century American Infantry officer sword. Details: Straight single edged blade cut with a wide fuller, brass hilt with remains of silver plating comprising knuckle –guard, down turned shell guard with a lion's head in each upper corner, decorated with a sitting women (allegory of USA) wearing Roman helmet, resting her foot on the crown, holding a liberty pole and cap surrounded by 17 stars with an eagle on the left, a federal shield and banners on the right. The grip has checkered white bone scales and a knight's helmet on the pommel.
CONDITION: showing the age and usage, blade with a dark patina and scratches from cleaning and sharpening, the silver plating worn-out, bone grip with old crack on the rim.
MEASUREMENTS: Overall length: 89 cm (35 in), length of the blade: 74.7 cm (29 3/8 in).