SOLD Antique US Army NCO (Noncommissioned Officers) American Civil War sword Model 1840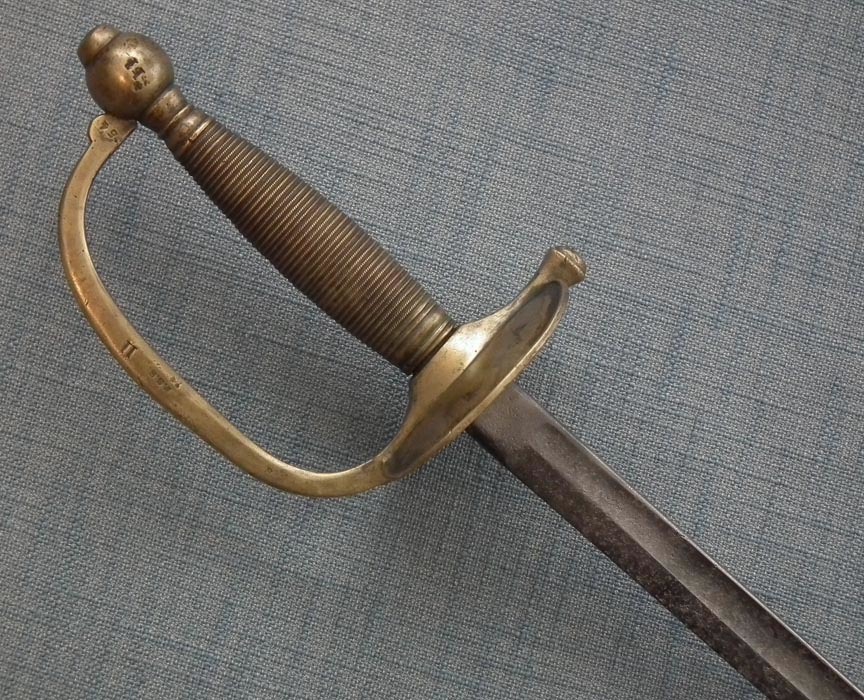 SOLD Authentic, Antique 19th century, US army, NCO (Noncommissioned Officers) combat sword, Model 1840 used throughout the Civil War.
Solid brass regulation hilt, simulated cord wrapped grip and double clamshell hand guard with a "D" shaped knuckle-bow stamped with government inspector marks of "S", "FSS", arsenal rack numbers "11" and "54".The bulbous pommel stamped with the number 11 and underneath is a slightly visible number "54", most likely an earlier rack number. The reverse side is stamped with No "11" on the knuckle-bow and on the pommel.
An sturdy, straight, single edged blade with a full length fuller superbly designed for penetration (thrust) and for slashing.
Typically sword carried by Federal non-commissioned officers and sergeants during the civil war.

CONDITION: Showing age and usage, blade is pitted overall, brass hilt has some oxidization.

MEASUREMENTS:
Overall length: 97 cm (38 3⁄16 inches)
Length of the blade: 80.8 cm (31 13⁄16 inches)

REFERENCES:
1.American Swords and Sword Makers by Richard H. Bezdek
2.American Swords 1775-1945 by Peterson, Harold Leslie
3.American Swords from the Philip Medicus Collection by Stuart C. Mowbray, Norm Flayderman

The buyer will be provided with a copy of the pages from the mentioned references together with a certificate of authenticity.