SOLD Antique Turkish Ottoman Silver Dervish Dagger 19th century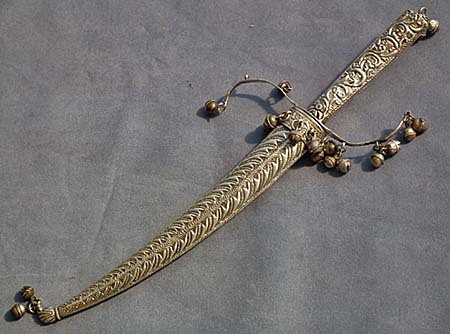 SOLD Antique 19th century Ottoman Silver dagger of Ottoman Sufi Dervish. DETAILS: A slightly curved very thin blade stamped on both sides at the forte with a series of small circular marks. A silver hilt repoussee and chased in scrolling foliage with an S – shape crossguard, with eight linked silver jingle bells adorned with twisted wire, and an elaborated pommel surmounted with a pendent with three silver jingle bells. In its original solid silver scabbard repoussee and chased with pelmets, a mouthpiece with six hanging jingle bells, a finial at the end of the scabbard in the characteristic ottoman form, as can be seen on Yatagans and Bichaq scabbards, enclosed with two silver jingle bells. The silver hilt, crossguard, scabbard, and the jingle bell loop, are stamped with Egyptian Ottoman silver marks, including Imperial Ottoman assay hallmarks, and a hallmark in the form of a lion.
According to the book, "Ottoman Silver Marks" by Garo Kurkman, Page 61 Figure 121/1-5, the marks are from the reign of the Turkish Ottoman Sultan Abdulmecid (1863-1861) and Abdulaziz (1830 -1876).
This is a ceremonial Sufi Dervish dagger adorned with jingle bells, which make a noise, and a thin flexible blade, and is strictly a ceremonial dagger, and as other dervish arms, including the axe and dagger, these were not actual combat weapons, but strictly ceremonial.
MEASUREMENTS: Overall length with the scabbard: 38 cm (15 in).
CONDITION: In good condition considering its age, the silver scabbard and the hilt are free of dents and repairs, the blade is lightly pitted overall.