SOLD Antique Turkish Ottoman Islamic sword Shamshir Damascus Steel 18th century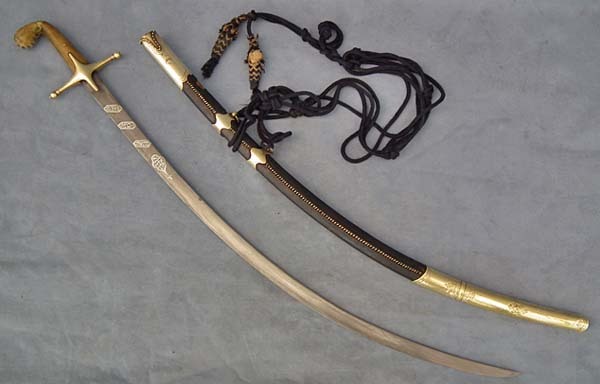 SOLD Antique 18th century Turkish Ottoman Islamic sword Shamshir. A curved single edged blade with a watered Turkish Damascus steel Wootz pattern, decorated on the outer side with four silver inlaid calligraphic cartouches with Arabic script, the other side of the blade decorated with a silver koftgari six pointed star, an Islamic secret symbol, the Seal of Solomon, comprised of calligraphic Arabic inscriptions. A hilt comprised of a grip with horn grip-scales, rising to a bulbous pommel in a characteristic Turkish Ottoman style, enclosed by brass straps, a brass crossguard with bud – shaped terminals, engraved with foliate borders. In its leather-bound wooden scabbard stitched with spiral wire, mounted with a large brass locket, with a band with two loops for suspension, a large chape, all decorated en suite with embossed and engraved foliage, with its original carrying belt with two tassels woven with silver.
CONDITION: A bulbous pommel of the horn hilt is damaged with signs of old repairs, the border for the langets on the one side of the locket is chipped, which are signs of the age and usage, which can be expected from an over 200 year old sword. This is a very good quality Turkish shamshir, and one of the best which I have seen over the years.
MEASUREMENTS: The overall length with the sword in the scabbard is approximately: 94.5 cm (37 1/4 in). The overall length without the scabbard is approximately: 93.5cm (31.5 in).