SOLD Antique Turkish Ottoman Islamic Pipe Cubuk With Tophane Pottery Bowl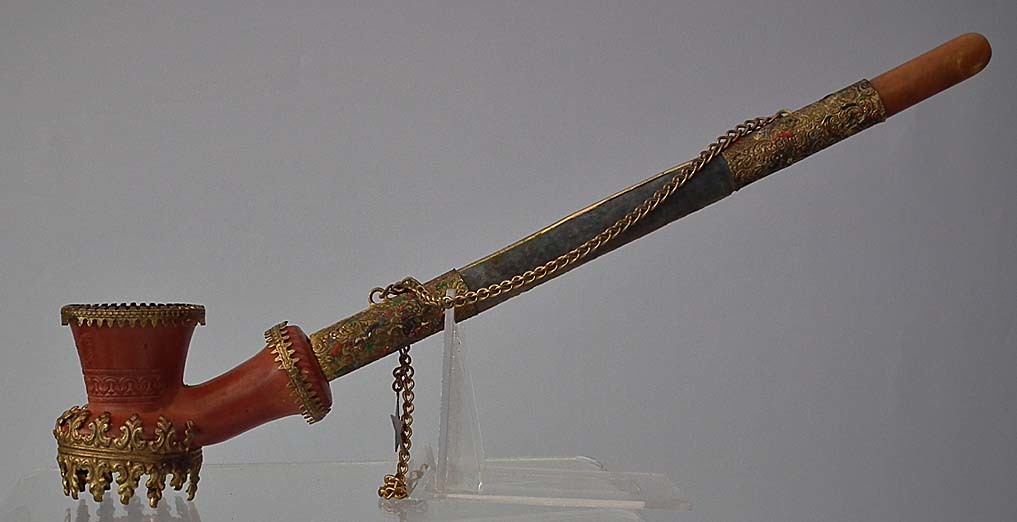 SOLD Antique 19th century Turkish Ottoman pipe Cubuk with Tophane pottery bowl composed of several sections including a wooden Stem covered in velvet within a finely engraved gild and enameled brass mounts. The robed chain is with a charm which is a five pointed star. The cylindrical form mouthpiece is made of a natural gemstone. The extremely fine quality pipe bowl is made of red Tophane pottery raising from a disc base to a flaring bowl. The bowl is incised on the bottom of its sides with the distinctive oval stamp of the manufacturer bearing the name illegibly in Latin alphabet, "tucmcz" and "stantino" (most likely Constantinople); these Latin stamps surround Arabic writing. As well there are two tobacco leaves that are beside this incision of the Arabic & Latin writing. The bowl is fitted in an elaborated crown shape which are gilt brass mountings.
MEASUREMENTS:
Overall length: 24 cm (9 1/2 in).
Length of the stumel: 6.5 cm (12 1/2 in).
Height of the bowl: 4.5cm (1 3/4 in).
CONDITION: In good condition considering its age, showing the age and usage. One of the leaves of the crown is broken off.