SOLD Antique Tibetan Dhakya Silver Cup Stand & Cover With 12th Century Chinese Song Celadon Porcelain Cup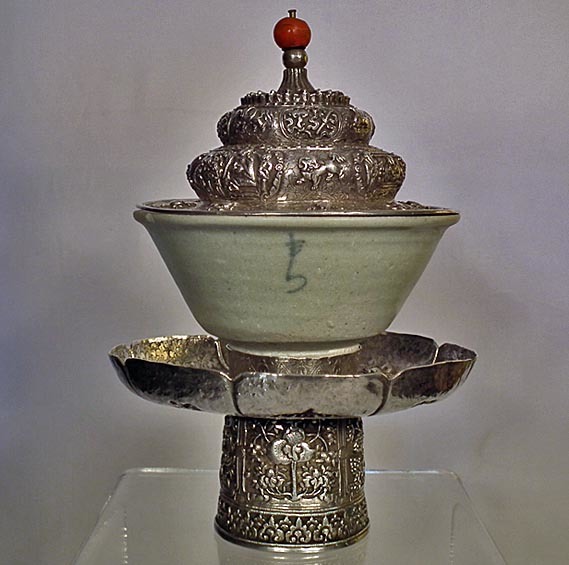 SOLD An exceptional antique, 19th century, Tibetan Dhakya - Silver cup stand with cover, fitted with a 13th century Chinese celadon porcelain cup.A hand hammered, solid silver cup stand with footed base and hollow center, finely hand chased and embossed with floral pattern, the rosette shape platform embossed and hand chased with eight auspicious symbols, on a floral ground. The hand hammered, solid silver lid in the form of the Stupa, decorated with hand chased and embossed figures of Buddha's and lamas, various animals including Elephant ,Tiger, Dragon ,Foo dog, Deer, Garuda with snake. Auspicious Symbols on the vine design ground, the top surmounted by carnelian bead finial.
The 12th century, Song Dynasty, Chinese celadon porcelain cup is painted in cobalt blue with four Chinese characters on the exterior and one on the center of interior.
Since, the diameter of the porcelain cup match with the diameter of the lid and the base, I assume that the silver mountings were especially custom made for the porcelain cup.
CONDITION: In good condition, showing the age and usage, the porcelain bowl with minor chips on the rim.
MEASUREMENTS: Height: 20.3 cm (8 inches). Width: 13.5
Weight of the Silver cup stand with cover: 277 grams = 9.77 ounces.