SOLD Antique Sword American War of 1812 US Light Artillery Sword Sabre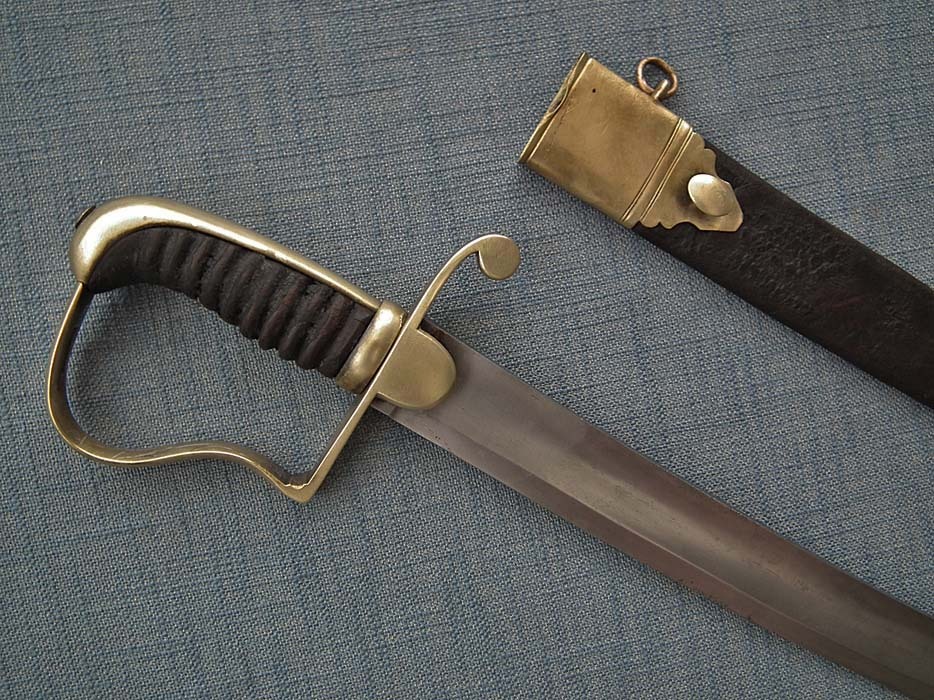 SOLD Antique American War of 1812, US Light Artillery officer Sabre - Sword. A plain brass stirrup hilt with a knuckle bow, shield shaped langets, downcurved rear quillon swelling at the tip and retaining the original ribbed carved wood grip. A broad slightly curved single edged blade cut with a wide full-length fuller. In its original hand stitched leather mounted with a large shaped brass locket, with suspension ring and the frog button on the front, chape and the middle band with loop for suspension.

REFERENCES:
American Swords from the Philip Medicus Collection: Philip Medicus, Stuart C. Mowbray, Norm Flayderman Page 154.Plate 73g. We will also provide the buyer with photocopies of the pages from the mentioned references together with a certificate of authenticity.

MEASUREMENTS:
Overall length with the scabbard: 95 cm (37.4 inches)
Overall length without the scabbard: 92.4 cm (36.38 inches)
Width of the blade at the widest point: 3.8cm (1.5 inches).

CONDITION:
The sword is in good condition considering its age to be over 200 years old. Showing its age and usage, some splits on the joints of the stitch. Lower part of the blade is slightly pitted. the wood grip was probably wrap in leather. Please notice that the pictures in the listing are part of the description of the condition of the object.