SOLD Antique Silver mounted Islamic Indo Persian Dagger Arab Jambiya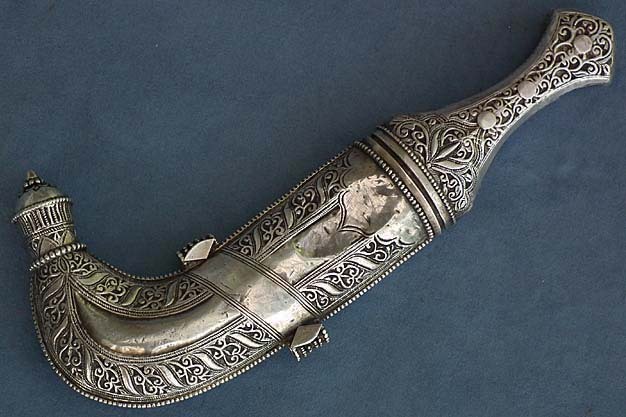 SOLD A very rare Antique 19th century Silver mounted Islamic Indian - Pakistani Dagger, made in the style of an Arab Jambiya, with a curved double-edged steel blade, formed with a medial ridge engraved: Arab Dagger Owned by Sarabil el Rhadim Shiek Medakle Head Aligul tribe. A heavy silver hilt very finely hand chased on the outer face with foliage and chevrons, a heavy solid silver wood-lined scabbard, decorated in very fine hand chased scrolling tendrils, and fitted with two loops for suspension.
MEASUREMENTS: The Overall length with the scabbard is: 27.5 cm (10 7/8 in).
WEIGHT: 451 grams = 15.90856 Ounces (oz)
Condition: The dagger is in good condition and shape considering its age, with signs of age and usage patina, silver scabbard dented.
The Aligul tribe probably refers to the Ali Gul Kili, Federally Administered Tribal Areas in Pakistan near the afghan border. Most likely the dagger was taken by the British from the local tribal chief during the one of the 19th century revolts.