SOLD Antique Silver Gilt Saudi Arabian Meccan Jambiya As The Lawrence Of Arabia Dagger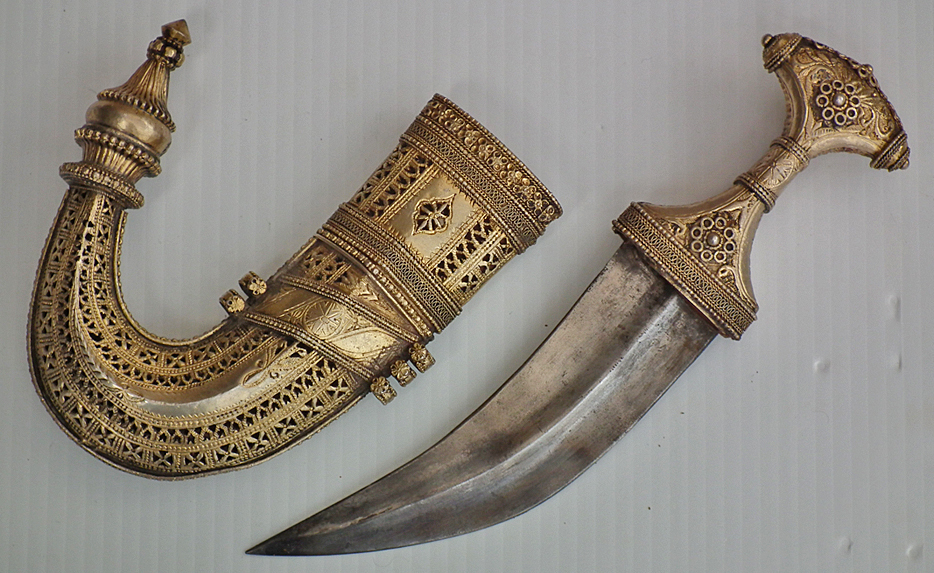 SOLD A very rare Antique, late 19th century Circa 1900.A.D. Gold gilt silver Meccan Saudi Arabian Dagger, Jambiya, with a curved double-edged steel blade, formed with a medial ridge, a gold plated silver hilt finely chiseled with foliage, and adorned with filigree work, solid silver scabbard with wood insert is exquisitely decorated in very fine pierced and chiseled scrolling tendrils, and fitted with the loops for suspension.
Similar gilt silver Meccan dagger was presented by Sharif Nasir to T.E Lawrence in 1917.A.D. (Lawrence of Arabia).
Then after this T.E.Lawrence went secretly and illegally into Mecca where he ordered a similar dagger as he received from Sharif Nasir but with gold hilt and scabbard.he said, " I did it because I wanted to chose my own gold dagger." Thus, two T.E.Lawrence daggers and the third similar Meccan Jambiya are published in the book "The Arms and Armour of Arabia in the 18th-19th Centuries" By Robert Elgood. Page:72 and Page 75.
So if such important men as Sharif Nasir presented T.E Lawrence with a dagger, almost identical to our gilt silver Meccan dagger, it means that this was a very expensive and luxury gift.
This dagger, also can be viewed on line, please see the link below.
http://telawrence.com/post/24066917669/t-e-lawrences-golden-dagger-made-for-him-in
https://raymondpronk.files.wordpress.com/2013/10/tel.jpg
Most of the Arab Jambiya daggers, which appear on the market, are not genuine antiques, but are contemporary examples. The Jambiya is a very important, revered and almost sacred object for Arab people, and was restricted and reserved only for the privileged, actual free, members of Arab tribes. Most of the time, the Jambiya was passed proudly on to the next generation. Arabs would never sell their personal Jambiya to foreigners, sometimes they were giving the Jambiya to foreigners as a token of friendship, or they lost this significant weapon as the result of war.
This particular artifact is an, exquisite, authentic, 19th century, Arab Jambiya, and not a modern product.
Buyer will be provided with copies of the pages from the mentioned references along with a certificate of authenticity.
Overall length with the scabbard: 25 cm (9 7/8 in).