SOLD Antique Silver Arab Dagger Arabic Dagger Jambiya Khanjar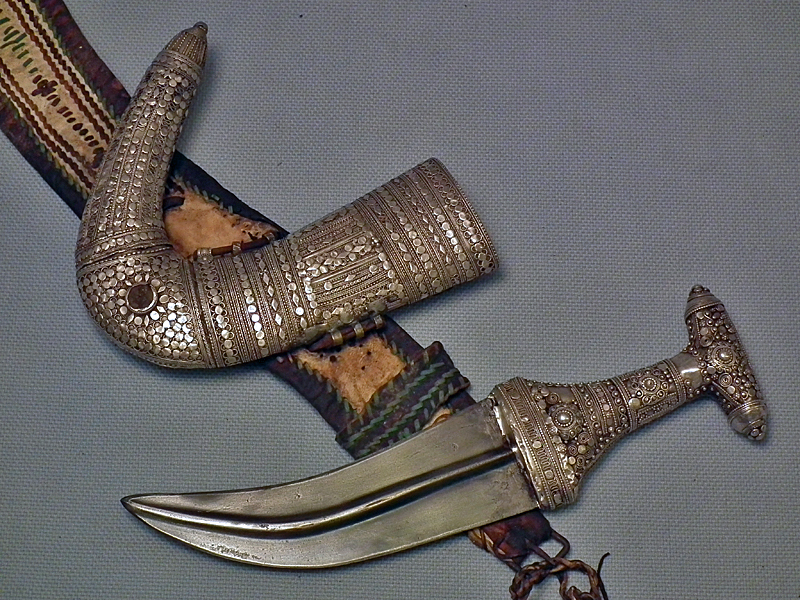 SOLD uthentic Antique 19th century, good quality elaborate silver – mounted Islamic Arab dagger, Khanjar Jambiya and belt. A broad, slightly curved, double - edged blade formed with pronounced medial ridge on each side, the silver hilt and exterior of the scabbard decorated throughout with filigree and beadwork, applied with small circular and diamond-shaped panels, the lower part of the scabbard is adorned with round carnelian incised with crescent moon and star, retained its original leather belt with iron buckle. The inner side of the scabbard is backed by iron plate and leather.
MEASUREMENTS: Overall length in the scabbard in straight line: 31.2cm (12 1/4 in). Overall length without the scabbard: 31.2cm (12 1/4 in). Overall length of the belt: 89.5 cm (35 in).
CONDITION: In good condition showing the age and usage.
Most of the Arab Jambiya daggers which appear on the market are not genuine antiques, but are contemporary examples. The Jambiya is a very important, revered and almost sacred object for Arab people, and was restricted and reserved only for the privileged, actual free, members of Arab tribes. Most of the time, the Jambiya was passed proudly on to the next generation. Arabs would never sell their personal Jambiya to foreigners, sometimes they were giving the Jambiya to forner, as a token of friendship, or they lost this significant weapon as the result of war.
This particular artifact is an, exquisite, authentic, 19th century, Arab Jambiya, and not a modern product.
REFERENCES:
1. The Arms and Armour of Arabia in the 18Th-19th and 20th Centuries by Robert Elgood
2. Weapons Of The Islamic World. Swords & Armour: Exhibition Held at the Islamic Gallery in King Faisal Foundation Center, Riyadh, 1991.
3. Les armes blanches du monde islamique : Les armes de poing by Alain Jacob.