SOLD Antique Russian Orthodox Brass Cross Crucifix 18th -19th century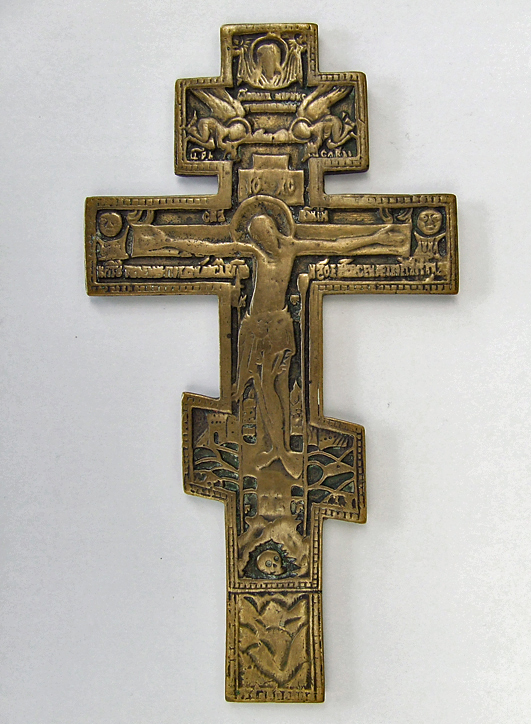 SOLD Authentic antique 18th - 19th century Russian Orthodox brass Cross "The Crucifixion". On the top part The Vernicle (Holy Face) with two angels. A sun and a moon on the ends of a middle bar, richly adorned with scripts in Cyrillic alphabet and the text of prayer to The Crucifix in along the middle bar and on the bottom edge. The Crucifixion in the center, in the lower part walls of Jerusalem and the mount Golgotha with the skull of Adam on the bottom end. The reverse of Crucifix is decorated with floral ornament.

MEASUREMENTS: 19.3 cm x 10.5 cm (7.6 inches x 4.13 inches)

CONDITION: In good condition: Showing the age and usage, gold gilding slightly worn on the exposed areas, from rubbing by worshipers. With old natural patina.

REFERENCES:
1. Russische Metall-Ikonen - in Formsand gegossener Glaube by Stefan Jeckel
2. Andrei Rublev Central Museum of Ancient Russian Culture and Arts. Published in the catalogue. Crosses, Icons, Hinged Icons by Gnutova, E. Ya. Zotova.