SOLD Antique Russian Cossack Caucasian sword Kindjal 19th century Caucasus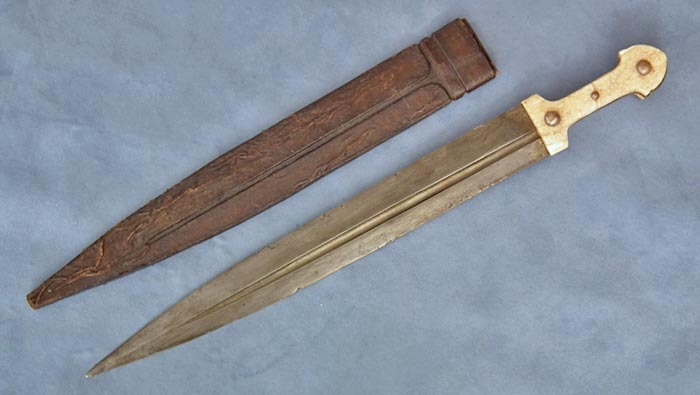 SOLD Antique 19th century Russian Cossack's / Caucasian sword Kindjal.
DETAILS: A broad tapering double-edged blade of a classical form with off centered fullers. A hilt fitted with a pair of shaped grip-scales retained by two domed brass fittings.
In its original, unusual wooden scabbard covered with brown leather beautifully tooled with off centered fullers, matching the fullers on the blade, enclosed by a tooled design imitating Damascus steel (flowing water design).
MEASUREMENTS: Overall length with the scabbard: 56 cm (22 in), the length without the scabbard: 55cm (21 5/8 in), length of the blade: 42.5 cm (16 3/4 in). Width of the blade: 5 cm (2 in).
CONDITION: Showing the age and usage, blade with a dark patina and scratches from cleaning and sharpening, nicks and slightly pitted (please see photos).
REFERENCES:
(1) "Weapons of the Caucasian nations" By E.Astvacaturyan.
(2) "Caucasian Arms from the State Hermitage Museum St.Petersburg" by Yurij A.Miller.
(3) "Edged Weapons in the collection of the Russian Museum of Ethnography".
(4) "Les Armes Cosaques et Caucasiennes" by Laroslav Lebedynsky.
(5) "Chechen Arms" by Isa Askhabow.
(6) "The edged weapons of the Kuban Cossacks" by Boris Frolov.