SOLD Antique Porcelain Figurine Group Polish Handkiss Model By Kändler for Meissen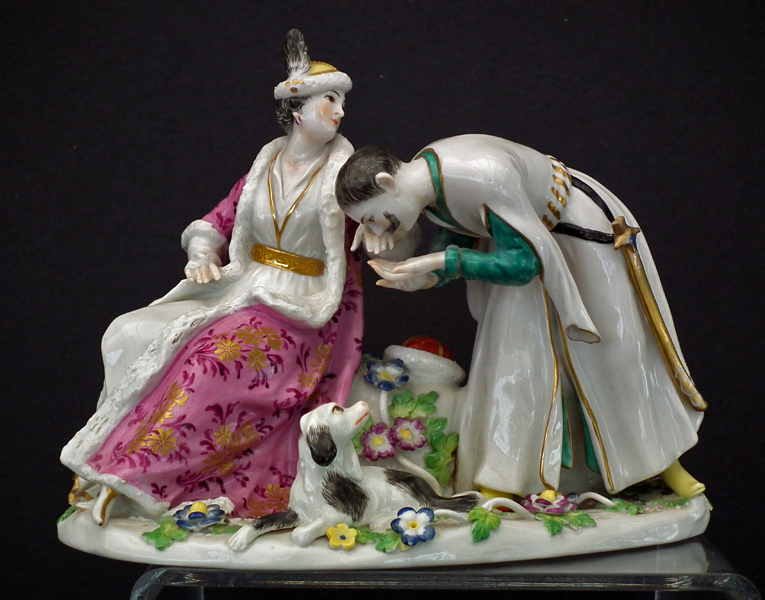 SOLD A superb quality antique, 19th century continental, most likely German, porcelain sculptured figurine group, 'Polish Handkiss', after the model by Johann Joachim Kändler for Meissen, circa 1743.

This stunning porcelain figurine group is worked in a most skillful manner with superbly sculptured details and finely hand painted details, including facial features and costumes details. The figurine depicting an elegant Polish lady, adored by a Polish Nobleman, he is kissing the hand of an elegant lady, situated on a rocky base decorated with sculptured flowers, she is clad in polish garments, long orchid mantle finely hand painted with gold and purple floral pattern and lined in ermine, long white girdled robe underneath, gold belt tied around her waist, and feathered fur cap adorned by gold cords. The lady passes her left hand to a polish nobleman who kisses the back of woman's hand. Polish noble with characteristic 18th century Polish hairstyle and moustache, dressed in a representative national Polish outfit. A white long robe (kontusz), with green gown (zupan) underneath with a gold woven fabric sash tied around his waist with a suspended gold gild sabre and pointed yellow boots, his hat lies next to him on the rock. A lovely Bolognese dog, lying at their feet, is watching the scene.

Marked at the base by, hand painted in cobalt blue, R /1762
CONDITION: Part of the sabre hilt broken off, however in good condition considering its age, no restorations or repairs.
MEASUREMENTS:
Length: 18.3 cm (7.2 inches).
Height: 14.5 cm (5.71 inches).
A very similar figurine group, 'Polish Handkiss', also made in 19th century, after the model by Johann Joachim Kändler, is in the collection of The National Museum in Warsaw.
Please see the links below:
https://www.google.ca/search?q=Polish+kiss+Modelled+by:+Johann+Joachim+Kaendler+%281706%E2%80%931775%29+in+around+1741%E2%80%9317431st+half+of+the+19th+century+The+Royal+Porcelain+Factory+in+Meissen+%28Saxony,+Germany%29+porcelain,+coloured+glazes,+gilding%3B+marked+with+crossed+swords+in+underglaze+bleu,+engraving:+502+%28model+number%29+height+17+cm,+%28with+oval+base%29+21.5+%C3%97+13.5+cm+The+National+Museum+in+Warsaw,+inv.+no.+158150+MNW&biw=1920&bih=945&source=lnms&tbm=isch&sa=X&ved=0ahUKEwiU8Leo6OnKAhUGKh4KHZ2-B78Q_AUIBigB#imgrc=NUk-fA0SzYTKoM%3A


https://www.pinterest.com/pin/337699672038304573/