SOLD Antique Polish January Uprising 1863 – 64 Plaque Polish Lithuanian Ruthenian Commonwealth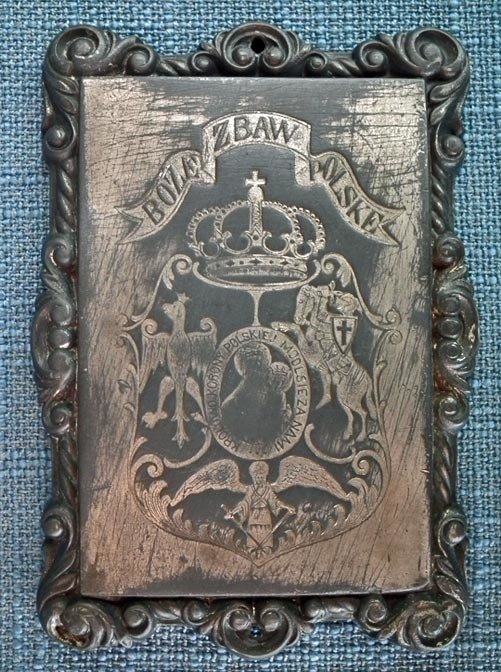 SOLD A very Rare Authentic antique, second half of the19th century, Polish, January Uprising 1863 – 1864, silver plated pewter plaque depicting the heraldic shield with the coat of arms, of a Polish–Lithuanian–Ruthenian Commonwealth (Polish: Rzeczpospolita Trojga Narodow, Commonwealth of Three Nations).
At the center is the image of Our Lady of Czestochowa with the inscription around KROLOWO KORONY POLSKIEJ MODL SIE ZA NAMI (Queen of Polish Crown Pray for us) flanked by Polish Eagle (Poland), Pahonia-Vytis (Grand Duchy of Lithuania) and Archangel Michael (Duchy of Ruthenia), all surmounted by the crown with the ribbon above bearing motto "Boze Zbaw Polske", (God save Poland ",) All within an elaborate frame.
The emblem was designed and used by the Polish National Government in 1863 - 64, as a reminder that the Royal Polish Republic was a community of three nations, both in the glory and in the misery of the state.

To see a related coat of arms on the standard from the Polish January Uprising's please see the link below.

http://www.jasnagora.com/wydarzenie-7744

MEASUREMENTS: Height: 10.7 cm x 7.4 cm (4.21 inches x 2.91 inches

CONDITION: Showing the age and heavy usage, slightly worn with scratches from the cleaning.