SOLD Antique Philippine Dagger Sword Talibon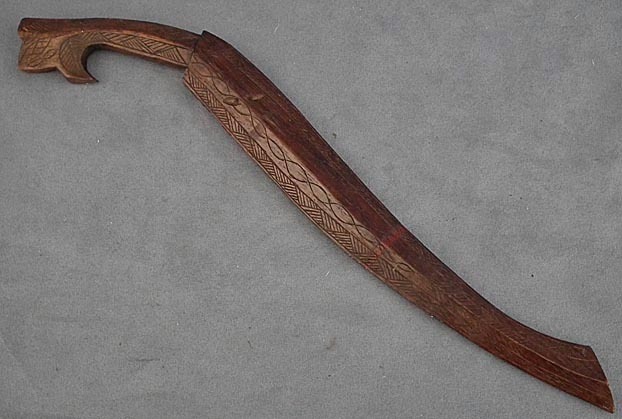 SOLD Antique 19th century Philippine battle dagger sword Talibon with a recurved steel blade, stone polished over forged surface, flat on the inner side, the outer side with a beveled edge. A hardwood hilt with expanded pommel, shaped as a highly stylized bird head, finely carved with its typical geometrical tribal pattern, in its original hardwood scabbard, with a carved small loop for suspension, and decorated en suite with the hilt.
REFERENCES:
1) "A Glossary of the Construction, Decoration and Use of Arms and Armor" by George Cameron Stone.
2) "Traditional Weapons of the Indonesian Archipelago" Albert G. Van Zonneveld.
CONDITION: In good condition overall with minor wear. Fine age patina with signs of usage. This is a good example of a Talibon main battle dagger –short sword of the Christian tribes of the Northern Philippines.
MEASUREMENTS: The overall length without the scabbard is approximately: 41.3cm (16 1/4 in). Length of the blade approximately: 28.5cm (11 1/4 inches).