SOLD Antique Napoleonic Bronze Sculpture Napoleon's Grenadier by Luca Madrassi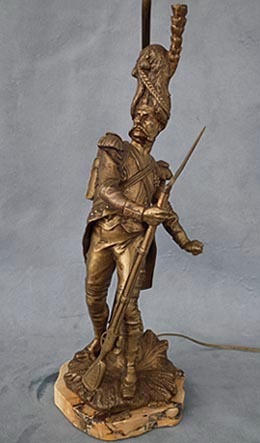 SOLD Authentic Antique 19th century bronze sculpture of Grenadier by Italian born French sculptor Luca Madrassi 1848-1919. Extremely well modelled and superbly executed with stunning details depicting a famous French 1st empire Grenadier of Emperor Napoleon's Imperial Old Guard (Grenadier de la Vieille Garde) striking an elegant pose wearing the distinctive tall bearskin cap with a plate stamped with the Imperial eagle, with cords and plume and the grenadier full uniform with field pack, saber and the musket with the bayonet standing on a naturalistic base, signed on the back 'L. MADRASSI' AND FOUNDRY MARK 'VRAI BRONZE GARANTI PARIS'. The sculpture is mounted on its original marble base.
In the beginning of the 20 century the sculpture was converted to a lamp with an attachment for a light screwed to the back of base.
CONDITION: In its good original condition with nice brown patina.
MEASUREMENTS: Complete height of the lamp to the end of the shade knob: 74.5cm (29 3/8 in). Dimension of the Marble base is approximately; 17.5 cm (6 7/8 in). Height of the bronze sculpture including the marble base: 46 cm (18 1/8 in). WEIGHT: Is approximately: 10 Kg (20 Pounds).
REFERENCES:"Luca Madrassi (Born in 1848 Tricesimo Italy Died Paris 1916). He was born in Tricessimo, Italy and studied in Rome and Paris. He moved to France at a young age. He studied under the master Cavalier at the Ecole des Beaux-Arts in Paris and later worked in the studio of Bourdelle. He was also a primary assistant to Ronald Gower and the Gower Memorial. Madrassi exhibited at the Salon of the Societe des Artistes Francais in Paris (1881-1896) and the Nationale in 1896. His career spanned the years from about 1869 to 1914. Very imaginative, Madrassi carried out many busts, statuettes, statues, and groups mainly on allegorical subjects or of kind. Museums: Udine Poitiers; musée Sainte-Croix Bibliography and references: Berman, Harold, Bronzes Sculptors and Founders", Vols. 1-4. Kjellberg, Pierre, Bronzes of the XIX Century". Costantini, G., Uomini ragguardevoli di Tricesimo e Cassacco, CF V-VI, 1939. Getty Research Institute, Research Library Photo Study Collection Bibliography of the History of Art / Bibliographie d'Histoire de l'Art Bénézit, Dictionnaire des Peintres (1976) Grove Art Online (2003-) Rheims, 19-c. sculp. p.407 Thieme-Becker, Allgemeines Lexikon der Kunstler (1980-1986)"
Due to the high cost of shipping we must dismantle the socket and the shade harp.
We are able to send the shade to the buyer with the sculpture or, to reduce the cost of shipping, send the sculpture without the shade; depending on the buyer's request.