SOLD Antique Napoleon Bonaparte Bronze Sculpture Statue 19th century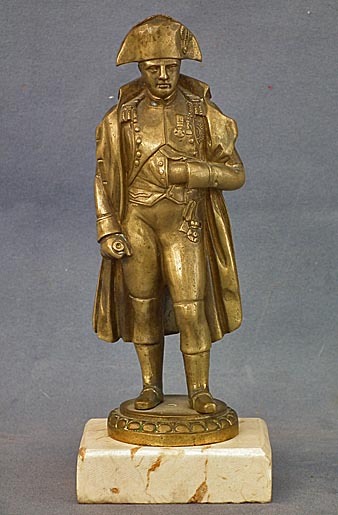 SOLD Antique late 19th century beautifully executed with fine detail bronze sculpture of Napoleon Bonaparte, in his famous standing pose with his hand in his vest, wearing his uniform of the Colonel of Chasseurs Cheval de la Garde Imperial, with the Legion of Honour Order. Mounted on its original square marble pedestal.
MEASUREMENTS: 18.5 cm (7 7/4 in) Tall inclusive.
CONDITION: Nice patina, and good signs of age and usage.
Due to the fact that the market is flooded by reproductions of Napoleon Bronze statues, which for inexperienced collectors look the same, we would like to inform our clients that this is a 100% authentic antique bronze, and is accompanied by a Certificate of Authenticity.